Kroiz Gallery & Exhibitions
The archives facility in the lower level of the Fisher Fine Arts Building houses the Kroiz exhibition gallery, a specialized library, reading room, and seminar room, as well as storage and processing facilities.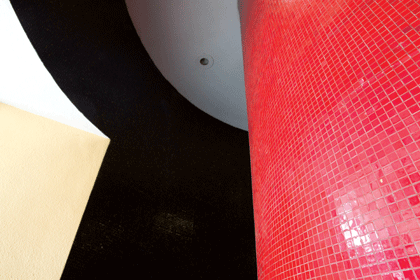 UNCOMMON MODERN
Commercial Vernacular Architecture in Greater Philadelphia, 1937-1970

Works on view include a remarkable series of recent photographs by Elizabeth Manning as well as rare original drawings by figures such as
Louis I. Kahn who contributed to this important and underappreciated architectural legacy. On view September 21-January 18.
Exhibition Opening Reception & Gallery Talk
Thursday, September 20, 2012
6:00 - 8:00 pm
Kroiz Gallery, Architectural Archives
University of Pennsylvania School of Design
220 South 34th Street
Philadelphia, PA 19104
Please RSVP by September 14:
uncommonmodern.eventbrite.com
Questions? Please contact (215) 898-8323.
This exhibition was made possible through the generous support of the Pennsylvania Historical and Museum Commission, Bureau for Historic Preservation.
IMAGE: Wynnewood Lanes, Ardmore, Delaware County, PA (1966). Photo by Elizabeth Manning.