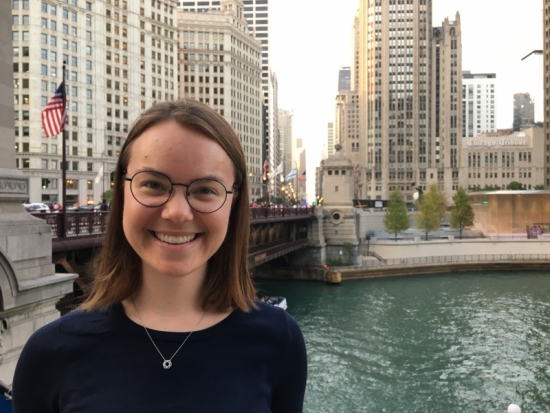 Hometown: Frenchtown, NJ
Education Background: BA in American Studies and French & Francophone Studies from Vassar College
Degree Program: Dual Master of City Planning and Master of Science in Historic Preservation
How did you get interested in your field? It seems so clear to me now, but I had a somewhat winding path to planning and preservation. I grew up in a small, historic town and always loved cities growing up, partly because it was so different from what I knew. I did a summer program at Columbia University when I was in high school that thematically combined urban history and contemporary urban studies using New York City as our classroom. It got me interested in Urban Studies, which is what I thought I would major in when I got to college; however, I realized that what I found most dynamic about cities was the layers of history that told the story of a place and the people who've lived there. I kind of fell into the field of historic preservation in my sophomore year of college and decided to create my own focus within the American Studies program. Since then, I've worked at historic house museums, state and city governments, and even served on my hometown's planning and zoning board of adjustment. I think that planning and preservation are very compatible because they are both future-oriented and are committed to creating and sustaining livable communities.
What was your background prior to coming to PennDesign?I took off four years between undergraduate and graduate school to get some work experience and to save money. The first year I taught English at an elementary school in Strasbourg, France. After I returned to the States, I starting working at the New Jersey Historic Preservation Office, a State agency that's responsible for both regulatory and planning work regarding the preservation of historic resources. It confirmed my interest in pursuing a career in preservation and convinced me that a degree in planning would make me a more effective preservation advocate.
Why did you choose Penn? I chose Penn because I wanted a rigorous, studio-based program that would give me technical skills while still encouraging me to think critically about my practice. I also wanted to do a dual degree program with planning and preservation, which surprisingly isn't that common. Penn stood out because of its breadth of courses, faculty engagement, and student enthusiasm.
What has been your favorite class so far?I have a hard time choosing favorites, but I did really enjoy Sustainable Cities (CPLN 730) with Allison Lassiter. The course was reading- and writing-intensive, but it enabled me to think critically about the concept of sustainability specifically and the practice of planning more broadly. Last year I primarily took courses in the planning program, but this year I'm taking more courses in the preservation program. With both programs, I enjoy how so many of my courses encourage students to learn from Philadelphia through site visits, guest lectures, and research.
What are you learning right now that will help you in the future? Both the planning and the preservation programs set students up well to have strong theoretical and practical knowledge in their respective fields. This semester, I'll be learning how to research the history of an individual building in Germantown and document its ownership over time, which is a technical skill, but the process also requires you to think more broadly about place.
What do you like best about Philadelphia?I love how walkable Philadelphia is and I love that it's a city of neighborhoods. I keep telling everyone that it reminds me of Paris, which might sound pretentious, but it's true! Philadelphia also has a great food scene and the rent is generally affordable, which makes it easier to be a student. I lived and worked here over the summer and fell in love with the city even more.
What kinds of activities and/or organizations are you involved in?This semester, I'm working with professor Amy Hillier as a teaching assistant for her Intro to GIS course and with professor Francesca Russello Ammon as a research assistant for a digital humanities project that maps the history of urban renewal in the Society Hill neighborhood of Philadelphia. I'm also involved with the Land Use-Environmental Planning Club at PennDesign.
What are your career ambitions?I would love to work with communities to strengthen their preservation programs by navigating planning regulations and leveraging local knowledge. I'm also interested in working internationally, especially on the impact of climate change to cultural heritage. One advantage of the dual degree program I'm in is that it gives me three years and two summer internships to explore possible career options, so I'm open to changing my mind!