PennDesign In Review: August 2012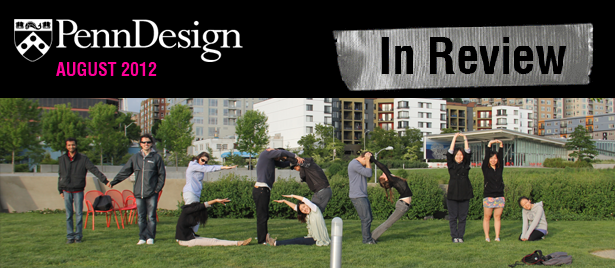 The Master of Environmental Design studio in Seattle at Weiss Manfredi's sculpture park / Rutvan Sheth
New Leadership for Undergraduate Fine Arts

PennDesign is pleased to announce that Ken Lum has been recommended as Full Professor and Director of the Undergraduate Fine Arts program. Lum, who is concerned with the dialectics of the private and public construction of identity, space and politics, is well-known as a conceptual artist. He has also led a notable career as an educator. - Read More.
| | |
| --- | --- |
| | Conservation Praxis is an intensive 4-week summer course led by Professor Frank Matero that builds on the historic preservation core curriculum and the first year conservation and site management courses. The Summer 2012 course focuses on the former site of the Western Clay Manufacturing Co. in Helena, Montana. - View Slideshow. |
In Transit: Ema Carol Yamamoto, MCP'12

New graduates are landing jobs, despite soaring unemployment in their fields. We checked in with a few of our newest graduates and invite you to hear what they are doing now, in their own words. Meet Ema Carol Yamamoto, MCP'12, a Planner/Analyst for the Mayor's Office of Transportation and Utilities. - Read More

About Us | Give to Penn | Contact Us
Copyright © 2012 University of Pennsylvania School of Design. All rights reserved.
PennDesign | 102 Meyerson Hall, 210 S. 34th Street Philadelphia PA 19104
Questions? Comments? Suggestions? Leads? Contact us.