PennDesign In Review - February 2012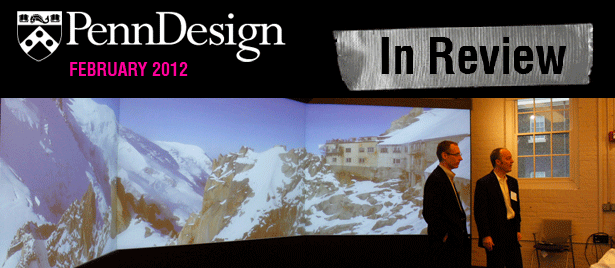 Dan Willis (penn state) and william braham (pennDesign) at the architecture and energy symposium
Spring 2012 Interdisciplinary Studios and Courses

Water in Dhaka. Dead space in New Orleans. Play in Ankara. Enclaves in Las Palmas. Watch short videos of Dean Marilyn Jordan Taylor and PennDesign faculty presenting select Spring 2012 studios that showcase the School's interdisciplinary strengths and design's reach in the world - Watch videos.
Unveiling Kahn in Rome: Piazza Campidoglio

To celebrate the 111th birthday of Louis I. Kahn--one of the most influential architects of the 20th century--please join us for the unveiling of his recently-acquired work, Piazza Campidoglio, Rome, 1950, with remarks by his son Nathaniel Kahn. - Read More.
New Issue of Change Over Time

The latest issue of Change Over Time, a new, semiannual journal publishing original, peer-reviewed research on the history, theory, and praxis of conservation and the built environment, addresses Heritage Recording in the Digital Age. The first of a two-part series on the methodological and theoretical approaches to the documentation and recording of historic sites, Digital Heritage offers papers presented at the international symposium SmartDOC-heritage held at PennDesign. - Read More.
About Us | Give to Penn | Contact Us
Copyright © 2011 University of Pennsylvania School of Design. All rights reserved.
PennDesign | 102 Meyerson Hall, 210 S. 34th Street Philadelphia PA 19104
Questions? Comments? Suggestions? Leads? Contact us.