PennDesign In Review - May 2012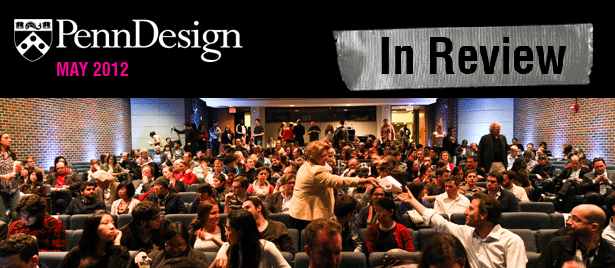 a packed house for the urbanized screening and panel discussion april 12

Two Rome Prizes for PennDesign

The American Academy in Rome has named Randall Mason, Associate Professor and Chairman of the Graduate Program in Historic Preservation, and Karen M'Closkey, Assistant Professor of Landscape Architecture, as winners of the 116th annual Rome Prize Competition. The prestigious fellowship recognizes the highest standard of excellence in the arts and humanities - Read More.
Closing Schools, Opening Opportunities

The Fels Institute of Government at the University of Pennsylvania (Fels) has named a cross-disciplinary team, including Masters of Architecture 2012 Candidates Evan Litvin and Lea Oxenhandler, as the winner of its third annual Fels Public Policy Challenge. The winning idea is focused on transforming nine vacant school properties into vibrant community hubs. - Read More.
REVEAL: The 2012 Year End Show

At its best, design has the capacity to be a revelatory act, shedding light upon truths which would otherwise remain unknown. Join PennDesign on May 11 as we REVEAL the truths unearthed throughout the 2011-2012 academic year at Year End Show, a celebration of studio and course work. - Read More
About Us | Give to Penn | Contact Us
Copyright © 2012 University of Pennsylvania School of Design. All rights reserved.
PennDesign | 102 Meyerson Hall, 210 S. 34th Street Philadelphia PA 19104
Questions? Comments? Suggestions? Leads? Contact us.