Spring Study Abroad Programs
Study Abroad, a traditional concept of allowing students to engage their architectural studies directly with sites and cities, is offered at PennDesign in many forms. Among these, the spring abroad programs offer the longest exposure and duration of stay: they allow students to become fully immersed in cultures and sites distant to the United States. The four programs in 2018 offer different themes and cultures, as well as degrees to which design exercises complement historical and discursive academic matter.
In 2018, students study and travel for approximately 4 weeks at the end of the spring semester (mid/late-May through mid/late-June) and receive 1 elective course unit of credit. These programs are open to both graduate and undergraduate students, at all levels, as well as to graduate students outside of PennDesign in and outside of the University of Pennsylvania, with approval of the instructors. See below for information on the specific programs, fees, credit, and application.
PENNDESIGN in PARIS: The City: Its Rhythms, Its Texts
ARCH 782.001: Travel to Paris & Marseille
Led by Annette Fierro, Associate Professor
The Paris Program is a long-established academic program that draws from many associations local to this greatest of Western cities. In its four-week study, the program consists of lectures on architecture, landscape and urbanism from important scholars, architects and engineers, with accompanied tours to buildings, landscapes, and professional offices.
We experience architecture and the city of Paris with an immediate sense of content.
We begin with issues essential to understanding Paris: (1) Urbanism--from early Roman and medieval morphologies, to the city's seminal role in initiating the discipline of urban design (Haussmann), to infamous speculative urbanisms (Situationists), to ongoing dilemmas wrought by post-colonial peripheral developments. (2) Technological trajectories, from the gothic cathedral, to the iron structures of Labrouste and Eiffel and Pompidou, to the vanguards of structural glass technology. (3) Contemporary civic architecture, beginning with François Mitterrand's last great rebuilding of the city, the Grands Projets, but extending into the new projects at Les Halles, Parc de la Villette, La Defense and the most recent re-envisioning of the Parisian periphery, Le Grand Paris. (4) Specific architectural moments, especially those of Le Corbusier, Hector Guimard, Pierre Chareau, and more recently, Jean Nouvel, Dominique Perrault, Jakob & McFarlane, and Frank Gehry. (5) The congruence between landscape and architecture in recent projects that brings the botanical and biological directly into the context of building. We TOUR many of these buildings and landscapes with scholars, architects and engineers and we hear their LECTURES simultaneously. We VISIT various professional offices. We begin to know, deeply, the context in which architecture and landscape is produced in this profoundly important city.
Finally, we PRODUCE one video/writing project which serves to focus all of the above through a creative ACT. In 2018, the topic will address spaces of protest in the city, confronting recent events and recent politics which are yet present in the city. We read, observe, absorb, write, illustrate, and film and re-film the spaces and actions of the city, in the city..............then we TOUR, HIKE, and SWIM in Marseille.
The 2018 spring course begins May 18 and ends June 18. For the preliminary syllabus, download here. For fee information for PennDesign graduate students, download here.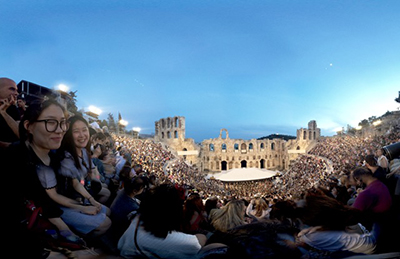 PENNDESIGN in GREECE: APOMECHANES
ARCH 782.002: Travel to Athens, Aegean Islands, Epidavros & ITALY: Venice
Led by Danielle Willems & Ezio Blasetti
Apomechanes is a computational design workshop as well as a study summer abroad program in Greece. This is part of a series of workshops and study abroad programs that have run since 2009. The title apomechanes is derived from "από μηχανής", literally "from the machine", and refers to the machinic nature of the studio in an abstract/diagrammatic sense. Apomechanes is a calque from Greek meaning "god from the machine".
The Summer Study Abroad Program Greece will organize a series of visits to both archaeological sites as well as modern and contemporary architectural sites. PennDesign students will exchange and collaborate with a selected group of Greek Architecture students, Artists and Designers during a week-long design workshop. There will be a series of lectures from professionals and academics, which will frame the proceedings of the workshop. The final presentation will take the form of a symposium and an installation. The Greece study abroad program will run from 5/17/2017 to 6/16/2017.
This program exposes students to the ancient and contemporary of Greek culture, archeology, city planning and architecture foundations. Many cannons of our discourses come directly from Ancient Greek civilization, ranging from our Democracies to City Planning, Theory and Design. Every Designer should have the opportunity to study and closely read these foundational elements. These spaces, architecture and archaeological sites in Greece hold vast value to contemporary designers and are an essential part of educating the next generation of Designers. We will cover the following topics in this program (1) Ancient Architecture, Archaeology and City Planning. (2) The Generative & the Geologic: The Ancient Rivers of Athens. (3) Contemporary Athens and Mega Developments. (4) Speculative Architectural Movements and the Venice Biennale. (5) Aegean Archipelagos and Aerial Photogrammetry.
The program is organized from the end of May to the end of June. The typical week is structured with tours of Ancient and Contemporary site in the start of the day, and guest lectures and cultural events in the evening. Lectures are organized with the Fine Arts and Architecture Departments in Athens, conveniently located in the center of Athens walking distance from the Acropolis. Weekend trips are left open to explore the cities and the islands, unless there is a planned excursion. In the past we have organized trips to Archaeological sites outside of Athens such as Meteora, Epidaurus, Peloponnese, Ionian Islands and Aegean Islands. There is also a sailing trip, which will explore the Archipelagos of Greece. We will engage in 3D scanning ancient sites. Students will live in the heart of the Ancient City Center with public transportation to sites of interest and leisure.
The draft syllabus is available here. Fee information for PennDesign graduate students is available here.
Find more information about our Greece Study Abroad program here.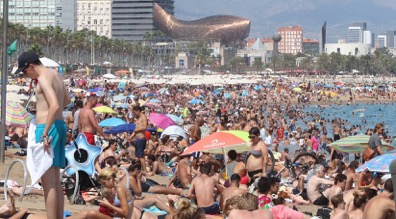 PENNDESIGN in SPAIN: Reformatting Tourism
ARCH 782.003: Travel to Madrid, Barcelona, and Majorca
Led by Eduardo Rega
The Spain Summer Study Abroad Program is a three year research and design project on the architectures, urbanisms and politics of tourism in three cities: Madrid, Barcelona and Palma de Mallorca (Balearic Islands). In collaboration with grassroots organizations and with local design students and faculty from all three cities, we will study the impacts of deregulated mass tourism on local communities, and propose critical reformatting tactics and strategies that pursue a sustainable balance between the visited and the visitors.
Through visits to the three cities, meetings and interviews with leading scholars, architects, activists and politicians and through a 10 day design-research workshop in Palma de Mallorca, the Spain summer study abroad program in collaboration with local academic institutions will develop critical spatial visualizations that support activists' claims on the destructive facets of the existing mass tourism industry, and design reformatting tactics for it. The results will be presented to the public through a panel discussion and an exhibition at the museum of modern and contemporary art of Palma de Majorca, Es Baluard.
EXCHANGE with the school of Architecture of Madrid (ETSAM) and the Universidad Europea de Madrid.
TOUR and INTERVIEW with leading scholars, architects, activists and politicians.
VISIT leading architecture offices in Madrid, Barcelona and Palma de Majorca.
SEE sites of mass tourism and well-known built architecture projects in the three cities.
PARTICIPATE in design-research workshop with students from Spanish universities in the museum of modern and contemporary art of Palma de Majorca, Es Baluard.
ATTEND lectures and panel discussions during workshop at the museum of modern and contemporary art of Palma de Majorca, Es Baluard.
PRESENT to the local media and exhibition of the workshop's results at the museum of modern and contemporary art of Palma de Majorca, Es Baluard.
SWIM at beaches in the Catalan coast and Majorca.
The 2018 spring course begins May 20 and ends June 20.
The draft syllabus is available here. Fee information for PennDesign graduate students is available here.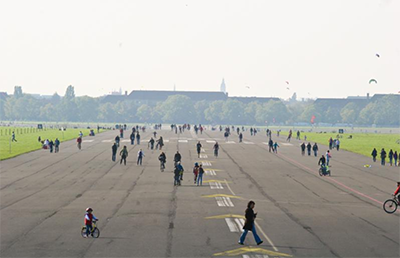 PENNDESIGN in BERLIN: Energy and Cultural Transitions
ARCH 782.004: Travel to Berlin, Dessau, and Weimar
Led by Daniel Barber, Associate Professor
This course will EXPLORE the role of architecture in the cultural and material transformations elicited by the Anthropocene.
Our focus will be three-fold: first, we will explore the HISTORY of German modernism, especially the Bauhaus, as a way to understand how architectural ideas have sought to induce broader
cultural and socio-economic TRANSFORMATIONS. We will explore modernism as a response to increased energy availability - a period now ending.
Second, we will study recent design ideas that have emerged from the 'energiewenden' - the contested ENERGY TRANSITION that has been a core of German economic policy and design innovation for the past few decades. Visits to buildings, urban developments, and technology firms will give us access to these dynamics.
The third aspect will have to do with the EXPERIENCE of Berlin as a city of the future. By discussing and exploring the cultural dynamics of bike culture, communal forms of habitation, and the recrafting of the city after the end of the Cold War we will see Berlin, as a site rich in history, as an ideal place to study the urban and environmental FUTURE.
To facilitate this research, we will COLLABORATE with Anthropocene Project of the Haus der Kulteren der Welt (HKW). With the HKW and local architects, we will produce DRAWINGS and NARRATIVES that reimagine the HKW building (designed by Wallace Harrison in 1957) on cultural and technological terms.
The draft syllabus is available here. Fee information for PennDesign graduate students is available here.
Students from inside the University of Pennsylvania
For PennDesign Graduate Students, see policies and fees listed as per program above. These courses are available to take without and without 1CU credit. For those taking it without credit, students will be asked to pay the fee listed for programs, but will be provided with the PennDesign stipend.
For University of Pennsylvania Architecture Undergraduates, these courses may be cross-listed as 400 level courses for the summer semester. Additional information for undergraduate students will be forthcoming.
Students from outside the University of Pennsylvania
All of the above programs are also open to graduate students outside of the University of Pennsylvania, pending available space in the programs, as Penn students are given first priority. Interested students will be accommodated as special non-degree students on a first-come first-serve basis. They should complete and email: (1) the Non-Degree Student Enrollment Form and (2) a letter of interest stating their particular interests to the specific program, by January 29, 2017 to: Annette Fierro, Director Summer Programs at fierroal@upenn.edu. Programs taken for credit will furnish 1 CU (3 hours) from the University of Pennsylvania, subject to approval by students' home university. Tuition for these courses for students from outside the University of Pennsylvania will be billed as (1) CU PennDesign summer credit with an additional fee of $2,000, which will provide the same features as listed for Penn students above. Programs taken without credit will be charged a flat fee of $5,000.
General Information
A valid passport is required, but a visa is not required for US citizens to travel in these four European countries. Citizens from other countries, however, should confirm if visas are required as they vary according to country of origin. Students needing a letter for visa application should request one from Sean Limlaw in the Architecture Department office.
Students are required to carry health insurance. Make sure that this health insurance works overseas and if necessary, purchase additional coverage. All Penn participants are covered by Penn's group policy with International SOS for emergency and medical assistance. This primarily provides coverage for emergency evacuation and repatriation as well as in-country medical and legal referrals. You will be provided SOS cards before departing.
Students on academic probation will not be allowed to enroll in summer abroad programs.
Deadlines & Fee Payment
Students enroll in these courses on a first-come first-serve basis during advanced or regular registration periods, beginning November 21.
Drop deadlines are January 29, at which point programs will be confirmed. Minimum enrollment in programs is set at 12 students, maximum at 18.
The Program Fee will be applied to each student's account by PennDesign's Office of Student Services on January 30, 2018. Students will receive an email confirmation when the fee has been applied along with information about how to increase their loan eligibility for the spring term to cover program-related expenses, if applicable.
PennDesign students will be furnished with a stipend check after January 29.