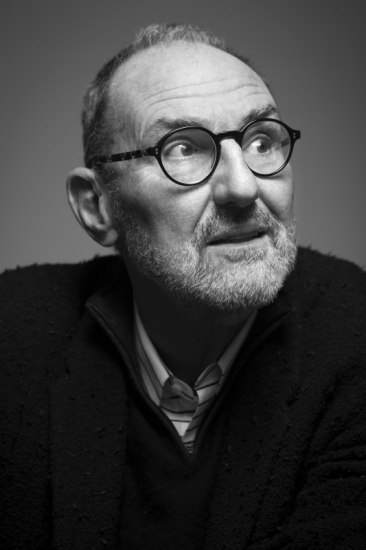 Cret Chair Professor of Practice
Thom Mayne founded Morphosis in 1972 as a collective practice of architecture, urbanism and design, rooted in rigorous research and innovation. Working globally across a broad range of project types and scales, Morphosis is recognized for its innovative and sustainable designs for cultural, civic and academic institutions, including the Bloomberg Center at Cornell Tech, the Perot Museum of Nature and Science, and 41 Cooper Square, the academic building for The Cooper Union. As Founding Principal of Morphosis, Mayne provides overall vision and project leadership to the firm.
Throughout his career, Mayne has remained active in the academic world. In 1972, he helped to establish the Southern California Institute of Architecture (SCI-Arc). Since then, he has held teaching positions at Columbia, Yale (the Eliel Saarinen Chair in 1991), the Harvard Graduate School of Design (Eliot Noyes Chair in 1998), the Berlage Institute in the Netherlands, the Bartlett School of Architecture in London, and many other institutions around the world. He was a tenured Professor at the University of California Los Angeles Architecture and Urban Design (UCLA A.UD) from 1993 – 2019. There has always been a symbiotic relationship between Mayne's teaching and practice, evidenced in his concurrent position as Executive Director of the Now Institute, Morphosis' research arm that collaborates with academic institutions to create design-based solutions for the pressing issues of the day, from mobility, urban revitalization, and sustainability, to public policy, planning, and community outreach. Fueled by the power of design-based thinking at all levels of education, Mr. Mayne founded the Thom Mayne Young Architects program in 2015 to provide elementary school children at underperforming schools with an introduction to architecture that hones their problem-solving skills across all areas of their education.
Mayne's distinguished honors include the Pritzker Prize (2005) and the AIA Gold Medal (2013). He served on the President's Committee on the Arts and Humanities under President Obama. With Morphosis, Thom Mayne has been the recipient of 29 Progressive Architecture Awards, over 120 American Institute of Architecture Awards and numerous other design recognitions. The firm has been the subject of various group and solo exhibitions throughout the world, including a large solo exhibition at the Centre Pompidou in Paris in 2006. Morphosis buildings and projects have been published extensively; the firm has been the subject of 33 monographs.
HONORS AND DISTINCTIONS:
DesignIntelligence Most Admired Educator / 2017
International Fellow, Royal Institute of British Architects (FRIBA) / 2015
AIA Gold Medal / 2013
Richard J. Neutra Award for Professional Excellence, California State Polytechnic University, Pomona / 2011
Centennial Medal, American Academy in Rome / 2009
Edward MacDowell Medal / 2008
Member, American Academy of Arts and Sciences / 2008
California College of the Art, Honorary Doctorate of Fine Art / 2008
New Jersey Institute of Technology , Honorary Doctorate of Humane Letters / 2008
AIA Los Angeles Presidential Award / 2007
AIA California Council, The Maybeck Award / 2007
National Design Award, Cooper-Hewitt National Design Museum / 2006
Alumni Merit Award, University of Southern California / 2006
Pritzker Architecture Prize / 2005
Fellow, American Institute of Architects (FAIA) / 2004
Chrysler Design Award of Excellence / 2001
Gold Medal, Los Angeles American Institute of Architects / 2000
Alumni of the Year, USC / 1995
Brunner Prize/ Award in Architecture, American Academy of Arts and Letters / 1992
Member Elect, American Academy of Design / 1992
Rome Prize Fellowship, American Academy in Rome, Italy / 1987
PROFESSIONAL ASSOCIATIONS:
President's Committee on the Arts and Humanities / Member / 2009 – 2016
American Academy of Arts and Letters / Member
American Academy in Rome / Trustee
A+D Architecture and Design Museum Los Angeles / Advisory Board
American Institute of Architects (FAIA)
Global Green USA / Board
Architecture League of New York / Board
Institute of Urban Design / Board
American Academy of Arts and Sciences / Member
National Academy of Design / Member
Southern California Institute of Architecture / Board of Trustees