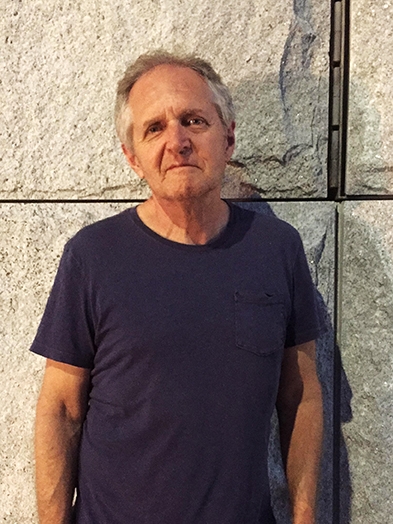 B.F.A., Massachusetts College of Art, Boston
M.F.A., Yale School of Art

David Comberg is a graphic designer and teaches undergraduate design, typography, and information design. He developed the freshman seminar, Writing On The City: Letterforms, Technology, and Philadelphia Culture, and has co-taught Cultures of the Book with Peter Stallybrass (English Dept.) and Visual Narrative with Jamie Diamond (Penn Fine Arts). He is co-founder of the Common Press and has taught design and design history at the University of the Arts. His reviews, profiles and criticism have been published by I.D. Magazine, Print Magazine, and Graphics International (UK). He is a member of Class Action, a collective that uses design to advocate for social change.
He was an invited participant in We the Designers, 2012, a traveling exhibition on the framing of political issues and is the recipient of a Judge's Choice Award in the Philadelphia Design Awards, 2009 for design of the Spiegel Lecture Series posters and awards for Penn Humanities Forum programs. Other awards include the AIGA Best of Show New England (for Perspecta 29, the Yale Architecture Journal, with Tom Starr), the ALA Best of Show (for the exhibition catalog From Jackson to Lincoln), and I.D. Magazine Best of Show (for the installation AIDing Awareness, Class Action).
He is the proprietor of David Comberg Design. Clients include Arthur Ross Gallery, Design Philadelphia, Instituto Cervantes, Mexican Cultural Institute, The Morgan Library & Museum, New York Public Library, University of Pennsylvania Stuart Weitzman School of Design, Penn Humanities Forum, University of Pennsylvania Museum, Rockefeller University, The University of the Arts, Yale School of Architecture, U. S. Veterans Administration, Penn Medicine, Mulgrew Dancers, Cornell University Press, Chronicle Books, MIT Press, Oxford University Press, Princeton Architectural Press, Saxco International, Lehman Brothers, MasterCard International, Ricoh, WRT Architecture and Planning.