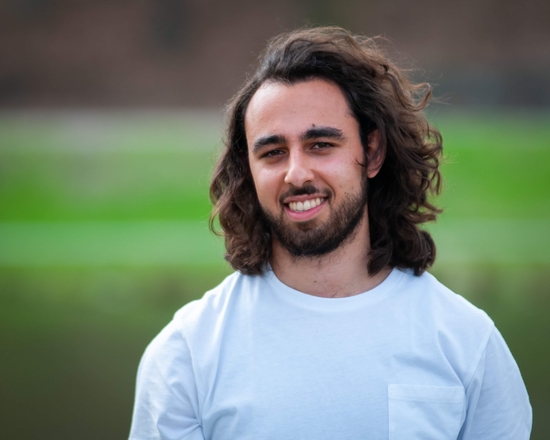 Hometown: Worcester, MA
Education Background: Clark University
How did you get interested in your field?
Transportation has always been a part of my life. My father was a car mechanic and I grew up helping him in the garage and performing Massachusetts State Vehicle Inspections. One time, a customer whose car that I had inspected came in and told me that they lost their job because I had failed their vehicle for safety violations a couple days before. I was devastated that I had contributed to this. It was one of the first times I started to think about how I would get around if I could not use my car.
I also got a speeding ticket. After the initial shock had worn off, I immediately began to plan how I could commute to work without having a car. Even though I'd grown up in one of the densest parts of the country, I was completely dependent on my Honda Accord. This launched my interest in planning for the sake of learning how to develop projects that encourage pedestrian and public transit usage, foster more human interaction, and help communities develop sustainably. Studying economics, geography, and planning at Penn continues to encourage me to think critically about people's behavior and how to change them to improve the common good. Today, cities are realizing how public transit and pedestrian infrastructure enhances the quality of life, and I want to be involved in expediting this transition to healthier urban environments.
What was your background prior to coming to the University of Pennsylvania Stuart Weitzman School of Design?
I was fortunate enough to know that I wanted to study urban planning during my undergraduate career. I majored in Geography and Economics and was always more interested in topics related to improving the individual quality of life in cities. I wrote two undergraduate dissertations on quantifying the economic benefit of heavy transit and the behavioral effects of Transit Oriented Development. I tried to quantify the benefits of transport infrastructure and pedestrian design with property markets and user behavior.
Why did you choose Penn?
I chose Penn for the professors. During accepted students' orientation, the professors seemed to genuinely care about keeping students engaged and went out of their way to involve students in their research. This has proven even more true during the pandemic; the department is working hard to ensure students have research/work to do while in quarantine. As a student, I've experienced this first hand with interesting classes and ample research opportunities. For instance, I assisted Professor Megan Ryerson in her research on making city streets safer for pedestrians and cyclists and Professor Erick Guerra on his SEPTA ridership research. I also had the privilege of taking a class with the former PennDOT secretary and current General Manager of SEPTA, Leslie Richards, gaining greater insight into the ins and outs of transportation planning.
What has been your favorite class so far?
I have really enjoyed the Multimodal Transport course with Professor Erick Guerra as well as Professor Megan Ryerson's Planning by Numbers class. In Multimodal, we take the case study approach in order to analyze different urban transportation issues and develp ways to approach them. In Planning by Numbers, I learned how to perform more in depth statistical modeling that can help inform potential transportation planning interventions. For instance, I worked on a model that can predict where bus stops should be eliminated, consolidating bus routes and creating a more efficient transport network.
What do you like best about Philadelphia?
The cycle lanes, food, and population density. The cycle lanes allow me to reach the food I like while the population density helps create an environment that is easy to walk in and conducive towards a better quality of life. One of my favorite pasttimes involves putting on my favorite podcast or playlist and just wandering the city, experiencing its architectual heritage and history.
What kinds of activities and/or organizations are you involved in?
I am in the Transport Club, Weitzman Social Justice, Lebanese Club, Inclusion in Design, and the Student Planning Association. A group of students and I founded Inclusion in Design in 2018 to establish a space in which first generation students of color can support each other and discuss the challenges of attending Penn. I was also a TA for The Introduction to Transportation Planning course.
What are your career ambitions?
I want to work for a forward-thinking consulting or transit firm that is constantly innovating to produce better social and economic outcomes. Penn helped me achieve this goal! I currently work in WSP's Philadelphia office.