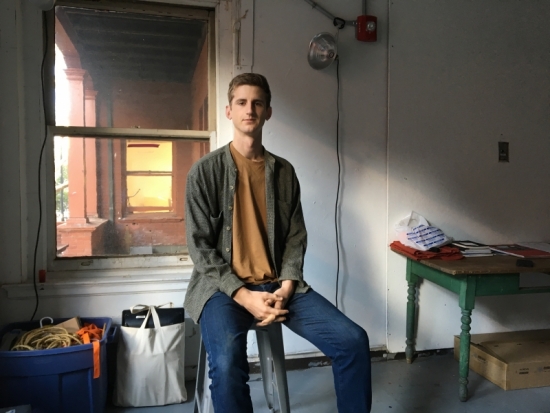 Hometown: Boulder, Colorado
Education Background: BA in Theatre and Performance Studies, University of Chicago
How did you get interested in your field?
Working in the Theatre I felt constricted by the conventions of the field, by the predetermination of a script and a production, and as an actor, I had no control over what roles I would be given. Art (performance art) gives me the space to control the conditions and content of the work I'm engaging in.
What was your background prior to coming to PennDesign?
I studied theatre and worked in that industry, I have also worked extensively as a studio assistant, art handler, and for film festivals.
Why did you choose Penn?
The faculty. I think that an MFA degree is primarily about the relationships you build during your studies and the conversations that result, and how supportive those relationships can b e throughout your career as an artist.
What has been your favorite class so far?
Across Forms (taught by Sharon Hayes and Rachel Zolf).
What are you learning right now that will help you in the future?
How to engage in constructive, critical conversation about the work of my peers.
What do you like best about Philadelphia?
I like the scale of the city, and the density of the history here.
What kinds of activities and/or organizations are you involved in?
I'm working for the Slought Foundation and I'm involved in organizing with the GETUP campaign which is the Graduate Student Union at at Penn.
What are your career ambitions?
To continue to work as an independant artist and filmmaker, and to pursue teaching at a collegiate level.