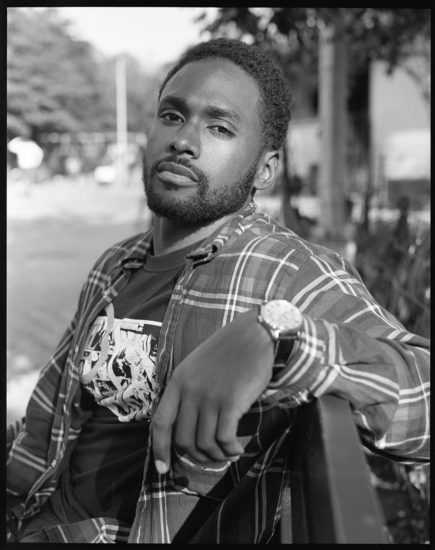 Hometown: Chicago, Illinois
Education Background: BA in Art Studio and Emphasis in Entrepreneurship, The University of Iowa
How did you get interested in your field?
I became a photographer out of necessity. During my time with my high school rowing team, I found myself to be one of the only people of color on the team, and one of the few from working class. I was gifted a camera by a friend and fellow teammate, and knowing my involvement with the team was not "normal," I began documenting everything and anyone around me.
What was your background prior to coming to the University of Pennsylvania Stuart Weitzman School of Design?
Before the Weitzman School, I attended five different schools throughout my undergrad: Miami University, DePaul University, Columbia College of Chicago, School of the Art Institute of Chicago, and The University of Iowa. At every university I was attempting to bridge the gap between art and business. It was at the University of Iowa, from which I hold my degree, where I founded my first company, became an executive member of Phi Gamma Delta (FIJI), and a columnist and photojournalist for The Daily Iowan newspaper.
Why did you choose Penn?
I believe Penn will give me the most value for the degree I am seeking. Along with the superb facilities and faculty of the university, Philadelphia also drew me in with its cost of living, the proximity to major East Coast cities, and its diverse and vibrant core built upon its legacy in jazz and social justice; and at the center of this all is an Ivy League campus with one of the best business schools in the world. There are so many things going on, it is impossible not to be inspired.
What are you learning right now that will help you in the future?
I have learned that an interdisciplinary art practice extends to everyday life. As an artist, one should be talking to all people across the board. Business and art, Law and Medicine, and everything in between. Ideas and opportunities can come from anywhere at anytime.
What do you like best about Philadelphia?
I love the grittiness of Philadelphia. It reminds me of Chicago, and the people from Chicago are hard working and serious. The city also has the air of being an underdog, and America loves a great underdog story.
What kinds of activities and/or organizations are you involved in?
I am currently part of BGAPSA (Black Graduate And Professional Student Assembly) and looking to join the Wharton Rowing team. Even though I am in the Weitzman School, the other graduate schools are very open and accommodating of their counterparts!
What are your career ambitions?
One of my career ambitions is to go into a startup or business that is focused on marketing, advertising, and consulting. I also plan to develop my company from undergrad, Sonnie Studios LLC, its emphasis in helping artists reach the market, providing creative direction for businesses, and creating new products from apparel to furniture.
Photo by Gioncarlo Valentine