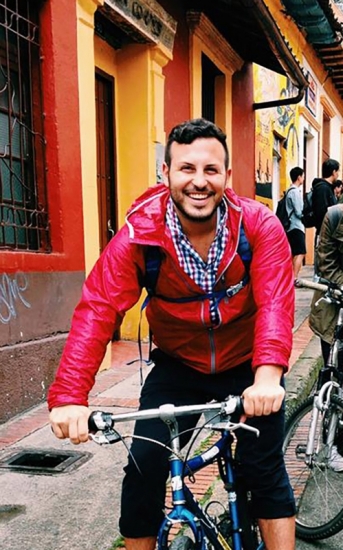 Name : Nicholas Parisi
Hometown: Westchester, NY
Education Background: BS Civil and Environmental Engineering, Cornell University
Degree Program: Masters of Landscape Architecture, 3-year program
How did you get interested in your field?
Well I had always been so undecided whether to go with my left or right side of my brain for college. I always loved math, science and was very interested in the current environmental movement. But I also had a love for drawing, painting, photography and anything creative. I ultimately decided to pursue an undergraduate degree in engineering. However,I had multiple engineering internship experiences during the summers in between academic years, and the one before my senior year, I worked in a small firm which offered services in civil and environmental engineering, city planning and urban design, and landscape architecture. Each of the partners of the firm had multiple, interdisciplinary degrees, and to me it made so much sense. I did not have to choose between a career path in the sciences or the arts, but rather could focus on bringing them both together. For me, Landscape Architecture and Regional Planning has been an amazing platform for me to merge my two interests. I can take my previous academic and work experiences in more technical studies and now combine that with what I am learning in design school.
What was your background prior to coming to the University of Pennsylvania Stuart Weitzman School of Design?
My previous studies focused on the physical and biologic applications of wastewater treatment. My classes were taken in the departments of civil, environmental, and biological engineering and I even worked in a microbiology lab for a semester culturing bacteria which would naturally degrade soil contaminants. I was also very interested in the concept of water resourcing on the global scale, in terms of global health and inequities due to potable water availability. I worked on a project team called 'Agua Clara' which designed and built energy-independent water treatment facilities for communities in the global south.
Why did you choose Penn?
When you do your research and see how integral this University and the Landscape Program has been in deciding the fate of the field of design, you are so compelled to become a part of that remarkable lineage of scholars. What sealed the deal was seeing all the amazing work that the students were producing when I came to visit. I had never even touched Adobe suite before stepping into Meyerson Hall, so all the visualizations just compelled me. I knew I wanted to one day be able to produce things like that.
What has been your favorite class so far?
That's tough, but it's probably a tie between Sally Willig's Field Ecology course and Keith VanDerSys' Digital Media II course.
Besides being the most energetic and happy human on the face of the Earth, Sally is so knowledgeable about regional vegetation and soils and her enthusiasm is so infectious. Each week, even when you're tired from the time you've been putting into studio, her field trips rejuvenate you and remind you why you chose this field. You get to be outside and participate in hands-on learning that will supply the fundamental knowledge to support your designs in class. There's no way you can go on a Sally field trip and not leave with a smile on your face.
With Keith's class, I was able to really find my niche in the expansive field of Landscape Architecture. You get to really experiment with the necessary and current digital applications of analysis and design. You will sharpen your Rhino modeling skills and better understand how integral parametric modeling is to our field. Although for some, this class has a steep learning curve, my engineering background found a way to manifest itself and I truly saw, for the first time, the stage for my two academic interests to merge and grow simultaneously. Keith is a true scholar and sometimes what I enjoyed most about the class was simply the conversations about how to broaden the scope and perception of what people believe Landscape Architects can and should be responsible for in the field. This is the first class of the digital media sequence which will equip you with skills that will truly set you apart from your counterparts at other institutions at the current time.
What are you learning right now that will help you in the future?
I think the things I have recently learned that are intangible will be the most helpful. How to simultaneously think in detail, and see the larger picture. How to work with, learn from, and take advantage of being surrounded by so people with many different educational skills sets and cultural backgrounds. Recently I've been really focusing on finding the thing that excites me most about a class, assignment or professor and focusing all my attention on that.
What do you like best about Philadelphia?
It's a quaint city with so many interesting cultural groups and neighborhoods with their own histories and characteristics. It's a city that is on the rise, and you are in the midst of the synergy of old, historic places and contemporary, cutting edge facilities. And of course the amazing food culture! Any foodie will not be disappointed.
What kinds of activities and/or organizations are you involved in?
I am currently the VP of Student Life on the Weitzman School Student Council, and have previously served as Landscape Architecture department representative. I also TA for two classes, one in the fall and the spring. I also try to keep active with pick-up and intramural soccer.
What are your career ambitions?
I want to take what I have learned here at the Weitzman School and bridge the gap between engineers and designers. I am a firm believer that these two disciplines are not mutually exclusive. I want to have an impact on local and global urban water systems and would love to be able to become a project manager to design and implement more efficient water treatment systems as well as urban design plans for green storm water infrastructure to minimize stress on urban water systems. I want to work, but I know I will always want to learn. Some more masters and phd's aren't out of the question either.
E-Mail Address that we may use for prospective applicants to correspond with you: