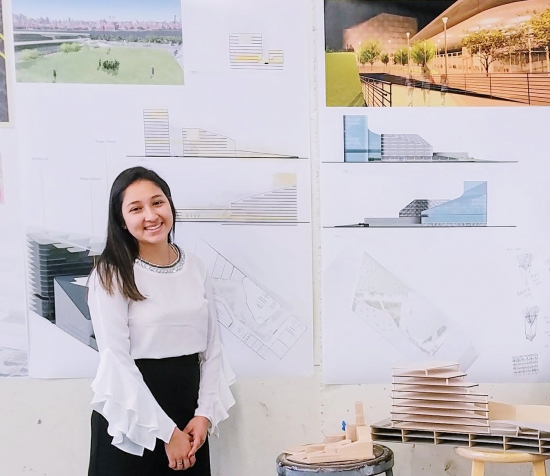 Hometown: Ocala, FL
Education Background: University of Florida, BA in Design, Minor in Landscape Architecture
How did you get interested in your field?
Growing up, I had always wanted to be a primary education teacher. Every year, my middle school held career day and this was the first time an architect came to speak with us. I signed up for the information session and he explained to us what he did, where he worked and showed us a project his firm was working on at the time. After that he left us draft a plan of the project and that was when I was hooked. Architecture was my passion ever since.
What was your background prior to coming to the University of Pennsylvania Stuart Weitzman School of Design?
I graduated from the University of Florida with a Bachelors of Art in Design and a minor in Landscape Architecture. I also was a member of the National Society of Leadership and Success (NSLS) UF chapter. While there I worked as a TA for first year design studio and worked on an independent study designing wind resistant structures.
Why did you choose Penn?
The innovative perspective and team of faculty members is what initially drew me to the Weitzman School. Looking further at the program the research that UPenn has dedicated to advancing architecture by using new technology not only made this a program I wanted to be a part of, but a program I think that many schools can learn from. The diversity of Philadelphia was also an added bonus to this because so many great and creative thinkers are able to come together to shape the future of architecture and design in general.
What do you like best about Philadelphia?
I have always loved big cities. I was born in one, but never got the opportunity to really experience the "big city life". I enjoy being able to leave my apartment and be able to walk to different places and through different neighborhoods. This is my first time in Philadelphia and I am loving it so far.
What kinds of activities and/or organizations are you involved in?
None at the moment, but I would really like to get involved.
What are your career ambitions?
I am extremely passionate about ecological architecture and designing resilient buildings. I didn't expect to minor in landscape, but I was really glad I did. It opened my eyes to the reality this earth is facing. I am eager to start working on projects and designs that will help to improve design and building strategies and techniques. Also, last year Puerto Rico was hit by Maria and that really affected me because I have family that lives there. This inspired my independent study and my future career goals on resilient design.