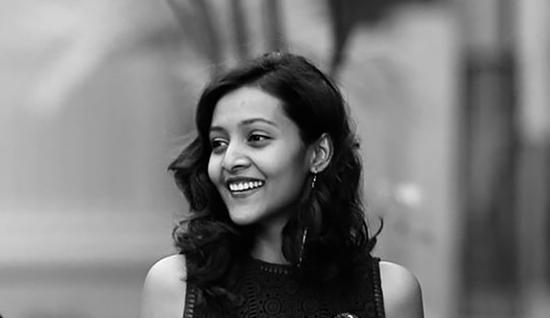 Hometown: Bangalore, India
Education Background: Bachelor of Architecture, BMS School of Architecture, India
How did you get interested in your field?
During my transition from a student intern to a practicing architect, I became aware of the impacts design decisions have on the environment, economy and society. With the rising climate change awareness and extensive data on the impacts of urbanization, there is an urgent need to change the way we design and build our structures. There are many architects who strive to make the change, yet implementation in real world practice is not yet a norm. This made me realize that if I were to approach design and practice architecture differently than how it has been done all these years, I need the appropriate knowledge and skills to help me achieve this.
What was your background prior to coming to Penn?
After getting my bachelor's degree I worked in an architecture firm in Mumbai. After a year of working on mixed-use high-rise ventures, I joined a real estate developer firm in Bangalore. Here I gathered a lot of knowledge on what impacts decisions for large commercial projects, what drives the investors and stake holders. Further, I was exposed to developer-end user interaction and relationships. I observed the effects of the demands of the market and how the company meets these requirements while factoring in profitability. Working with this company opened my eyes on how important sustainability and environment responsibility is to the various parties and the role of the architect in this.
Why did you choose Penn?
Penn is one of the very few universities that offers the Environmental Building Design program which is targeted toward professionals who want to specialize in this field. Very few graduate programs are this highly focused and tackle the issues head-on. The program is designed to equip architects with a very specific skill set to explore better ways of building design and construction. Furthermore, the resources and networking opportunities that Penn presents are unparalleled.
What are you learning right now that will help you in the future?
Tools like Ladybug and Honeybee tell us exactly how our design affects the performance of the building. It negates the need for performance corrections after the building has been constructed and makes one a responsible and reliable architect. We are also trained to think analytically and critically of the adaptation of these tools in the design process.
What do you like best about Philadelphia?
I like the fact that the city isn't too large, most places are easily accessible. I especially love that the Penn campus is integrated with the city, so you don't feel isolated which happens with some university towns. Philly has always seemed vibrant and welcoming, at least for 7 months that I have lived here. Being so close to New York is a huge advantage to get more exposure or even for fun weekend trip.
What kinds of activities and/or organizations are you involved in?
I am involved with the Penn Women in Design student group. I am thrilled to be a part of this and empowering my fellow classmates in this time where we are slowly but steadily closing the gender gap.
What are your career ambitions?
I would like to work with people and/or firms who persevere in making architecture environmentally responsive and sensitive against all odds. They, or rather, we, are going to be the agents of this change that is inevitable. I would hopefully, someday, be leading one of the team pioneering in this movement.
E-Mail Address that we may use for prospective applicants to correspond with you: