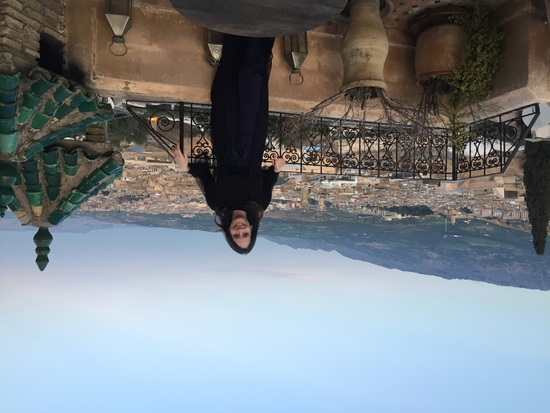 Alison Cavicchio is a candidate for the Master of Science in Historic Preservation (MSHP) at the University of Pennsylvania Weitzman School of Design. She is specializing in architectural conservation with a particular interest in glazed tiles and earthen architecture.
Her graduate internship with the Center for Architectural Conservation brought her to Frank Lloyd Wright's Taliesin East in Spring Green, Wisconsin, in May 2021, and to Pecos, New Mexico, in July 2021. At Pecos National Historic Park, she conducted conditions assessments and helped to develop a monitoring methodology that the National Park Service can use to monitor the condition of encapsulated adobe walls at the park. She is the AIC Emerging Conservation Professionals Network (ECPN) Liaison for Penn and is a member of the Penn Preservation Student Association.
Prior to entering the MSHP program, Alison worked in the international development and human rights sector for ten years. Her career began at the U.S. Agency for International Development's (USAID) Office of Afghanistan and Pakistan Affairs in Washington, DC. During her time with USAID, she spent a year overseas in the Missions in Kabul and Islamabad where she contributed to the agency's strategic planning for each technical sector, most notably governance and stabilization programs in the Federally Administered Tribal Areas of Pakistan. Most recently, she served as the Senior Program Officer for Freedom House's Middle East and North Africa team where she designed projects and managed programs in the MENA region including a project in Jordan designed to build support for workplace gender equality. She also worked for the Aga Khan Foundation where she managed a range of programs and initiatives including resource mobilization efforts and programmatic research for social cohesion and humanitarian assistance programs in Syria, and emergency response projects in northeastern Afghanistan.
Alison studied Arabic while living in Morocco and Egypt and learned to speak some Farsi during her time in Afghanistan. She has a BA in political science and international affairs, with a concentration in Middle East studies, from Simmons College in Boston, MA.