Subscribe to Design Weekly: News from PennDesign
April 2, 2016: Day of Awareness
Location: Meyerson Hall, 210 South 34th Street, Philadelphia, PA 19104
Presented by: DiverseDesign, a PennDesign student organization
Past
Justice + Space was a roundtable discussion in response to the highly publicized instances of police brutality in 2014-2015 that brought racial tensions in America to the forefront and asked people to critically engage in questions of whether Black Lives mattered in America, if not then why? DiverseDesign saw designers as an important component to that conversation and thus created a roundtable in spring 2015 known as Justice+Space to begin discussing the role of design in aiding or alleviating injustices in our communities.
Mission Statement
"As designers and artists we are concerned with space and as humans we are concerned with justice. We call into question our roles within the current social dynamics in the urban context that have led to the massive demonstrations of protest against police brutality that have resulted in legacies of racism, Jim Crow, and damaging consequences of exclusionary urban design practices.
We have the power and responsibility to actively and critically confront social injustice, both in Philadelphia and globally, as the design community at the University of Pennsylvania.
We provoke designers and artists to be catalysts of change and intend to carry this conversation into the design community at large continuing a dialogue begun at Columbia's GSAPP, and bringing the conversation to an intended conference in the fall.
We believe that a discussion between designers, artists, scholars, and practitioners in other fields will be productive and enable us to formulate plans for positive action."
Present
"Memory is the link between the past and the present, between space and time, and it is the base of our dreams." - Ngũgĩ wa Thiongo, Something Torn and New: An African Renaissance
The realities of our environments, which have been wholly designed and built to generate the intended outcomes of white supremacy, classism, able-ism, and gender based discrimination have waged wars on our communities and histories since America's inception. These harsh realities have limited our access to culturally relevant pasts, a just present and the ability to dream of new futures where our humanity is recognized at all times. This ability to dream along with these 3 moments in time: past, present and future have become the basis for this year's Justice+Space conversation. We see these states as simultaneous and intangible to the environments we live within making these topics a necessity to the conversation of creating holistic and liberated spaces. We call together designers, artists, organizers and community members alike to join together to create collective knowledge around visionary community controlled spaces and to then take action to make them reality.
Day of Awareness: Program
Session I Preservation of Culture
Our histories, painful or triumphant, ordinary or extraordinary, are increasingly wiped from visibility in our American Landscapes. These histories, however, live immaterially in our bodies and spirit, leaving longings to uncover and connect with those truths. Preservation of Culture examines the way designers engage with our pasts through the traveling backwards and forwards in time to reimagine its place in our lives.
PANELISTS
Brent Leggs
​Senior Field Officer of the National Trust for Historic Preservation
blog.preservationleadershipforum.org
David Butler
Artist
davidmichaelart.com
Michael Ford
Designer
brandnudesign.com
Session II Revitalization/Reuse
Modern day colonization finds itself playing out at ground zero in our neighborhood schools. Across the country, school closures and privatization destabilize and kill community centers by sinking the futures of entire neighborhoods into a graveyard, making way for outsiders to encroach upon the land and displace the residents. Using school closures as a case study for gentrification, we examine alternatives to displaced presents and shuttered futures.
PANELISTS
Cassandra Pitman
Student collaborator on reFORM project
reform-project.org
Rapheal Randall
Executive Director of Youth United for Change
PennDesign MCP '12
youthunitedforchange.org
Session III Vacancy: Taking Back the Land
We see the right to self-determination happening over our communities land. High levels of vacancy can result in dead zones or vibrant supplementary spaces for neighborhoods based on who controls the space. Taking back the land is the first tangible action of dreaming a new present and future, by way of reclaiming the spaces necessary to be made a reality by and for the community.
PANELISTS
Tommy Joshua
Community Activist and Educator
Executive Director of the North Philly Peace Park
facebook.com/NorthPhillyPeacePark
Ariel Morales
Community Organizer
Wcrpphila.org
Juanita Lewis
Westchester County Lead Organizer
cvhaction.org
When we discuss liberation, we often fail to recognize that "space" is indivisibly intertwined with freedom. Dreaming concludes the day's discussions by projecting into the future, occupying the speculative reality where there is no question of the recognition of our humanity.
PANELISTS
E Jane
Artist
PennDesign MFA candidate '16
www.e-jane.net
Althea Baird (Ash Richards)
Facilitators
spatialjusticelab.net
Rasheedah Phillips
Creator of Afro­Futurist Affair
www.afrofuturistaffair.com
April 3, 2016: Day of Action
Location:
North Philly Peace Park: 22nd & Jefferson Ave
Sharswood, Philadelphia, 19121
12-2pm
Future
"Planning is thinking beforehand how something is to be made or done, and mixing imagination with the product – which in a broad sense makes all of us planners." - Paul Williams
Starting were we left off, dreaming and imagination are the catalyst for our partnership with the North Philly Peace Park and members of the Sharswood Community. This one day event seeks to demonstrate a community design collaboration that will use socially-engaging art as a platform to connect diverse partners, from city agencies to schools and greening organizations, with community organizations and individuals to share responsibility for driving neighborhood change. Devising a sustainable design for the new location of the North Philly Peace Park and productive uses for the historic Dox Thrash House, the community-driven art project for the day will contribute to the rethinking the fabric at these two sites. This day will culminate with a design/build project beginning in the summer of 2016.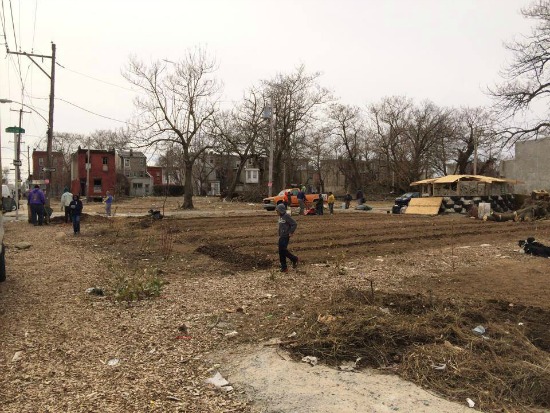 The former site of the NPPP. Photo: North Philly Peace Park.
The North Philly Peace Park is an independent volunteer run "ecological campus" that housed a community farm, a Meadow and Bird life Refuge, Sala Nkruma Community schoolhouse, an Ecology Center, and the Imagination Play field, before they were displaced by encroaching development projects. The NPPP is sponsored by the Philadelphia Coalition of the Heart (PCOH).
Read More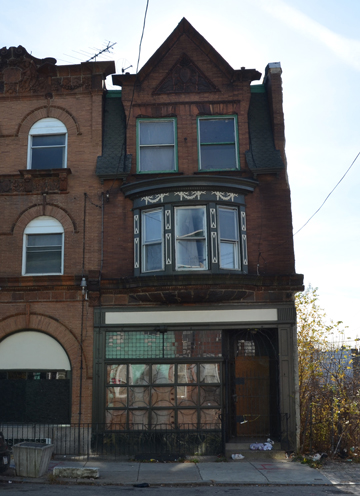 Dox Thrash House. Photo: Preservation Alliance of Greater Philadelphia
Dox Thrash House is a locally protected historic home of prominent African American Artist Dox Thrash. Located at 2340 Cecil B. Moore Ave the house is currently being threatened by vacancy.
Read More
Donations are welcome!
11:30am @ North Philly Peace Park
Tour Sites: Pearl Theater Mural, Web Record Store, Dox Thrash House, Malcom X House, Marcus Garvey House
Community Dreaming Session
Maya L. Thomas
Katherine Engleman
Katie Ann McBride
Gabriella Nelson
Elizabeth Bland
Prince Langley
Nyasha Felder
Doug Breuer