Undergraduate Fine Arts study at Penn offers the student immersion in an array of leading- edge digital media and image production technologies, as well as technical training in traditional fine arts categories such as drawing, painting and sculpture. Students are encouraged to think creatively and critically about how what they produce through artistic and design oriented practice have real world application for the improvement of the social environment. Students concentrating in Undergraduate Fine Arts at Penn fulfill their studies in the context of a foundation in humanities and social science offerings from the College of Arts and Sciences. Fine Arts courses are taught by practicing artists and designers. In addition, leading figures in art and design, comprise regular invitees to present on their work to the Department of Fine Arts.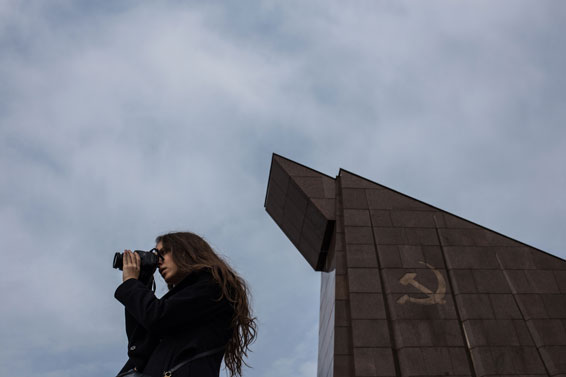 The Undergraduate Fine Arts Program combines studio practices, seminar courses, and interactions with visiting artists and professionals in order to provide an open intellectual framework to foster critical awareness and independent methods of artistic research and learning. The Fine Arts Department offers a diverse range of studio courses in the areas of animation and 3D modeling, ceramics, design, drawing and painting, photography, printmaking, sculpture and video. The dynamic curriculum also provides students with the opportunity to thoroughly examine contemporary art, creative research, interactive design and public art through seminar-based instruction.
The Undergraduate Fine Arts Program offers a Fine Arts Major for students in the College of Arts and Sciences and School of Engineering, and a Fine Arts Minor for undergraduate students across the university. The Fine Arts program works in conjunction with three interdisciplinary degree programs in Cinema Studies, Digital Media Design and Visual Studies. Fine Arts courses are available to all students at the university to take as electives in order to enhance multidisciplinary learning.
Department of Undergraduate Fine Art
Charles Addams Fine Arts Hall
200 S. 36th Street
Philadelphia, PA 19104
(T) 215-573-5134; (F) 215-573-8127
Office: Room 114
Office Hours: Monday - Friday, 9 AM-5 PM
Ken Lum, Professor and Director of Undergraduate Fine Arts
kenlum@design.upenn.edu
Kristen Goldschmidt, Coordinator
krgold@design.upenn.edu | 215.898.9680
Erin Williams, Administrative Assistant
erinwill@design.upenn.edu | 215.573.5134