1 Year Post-Professional Program: 2 Semesters + 2 Week Introductory Summer Course
The Master of Science in Design: Robotics and Autonomous Systems (MSD-RAS) is a one-year post-professional degree program that explores avenues for re-situating the role of architectural design within present day autonomous technologies.
The program explores means for orchestrating design agency within material and robotic systems, for the fabrication or live-adaptation of experimental architectural prototypes.
Exploring Design through Engagement with Robotic and Autonomous Systems
The Master of Science in Design: Robotics and Autonomous Systems (MSD-RAS) explores avenues for re-situating the role of architectural design within present day autonomous technologies. The program aims to critically develop novel approaches to the manufacturing, construction, occupation, and life-cycle of architecture through creative engagement with robotics, material systems, and design-computation. Students will develop skills in advanced forms of robotic manufacturing, artificial intelligence, sensor and vision technologies in order to develop methods for design that harness production or live adaption as a creative opportunity. Operating predominantly through material prototyping and robotic fabrication, participants will critically assess the socio-political, ethical and theoretical dimensions of a recent societal shift towards algorithmic and autonomous technological dependence, and attempt to provoke alternative forms of dialogue with industry and culture that address our individual and collective engagement with the built environment. The work of the program will be both highly speculative and physically manufactured. Students will collaboratively develop robotically manufactured architectural prototypes (part or whole) that will be presented and exhibited at the completion of the course.
Advancing Architecture through Industry 4.0
The fourth industrial revolution (Industry 4.0) describes a recent shift towards autonomous systems, and societal dependence on cyber-physical processes that incorporate digital communications, robotic fabrication, and artificial intelligence. Industry 4.0 technologies include autonomous manufacturing, shopping fulfillment services, driverless cars, automated surveillance, and Internet-Of-Things systems. How does architecture critically engage with these technologies and the role their algorithms play in our everyday lives? The building industry is currently undergoing transformation through the adoption of robotics technologies such as additive manufacturing systems that enable a reduction in the time, cost and complexity of delivering buildings, and have potential humanitarian and socio-economic benefits. Adoption of these technologies also enables greater automation not only in production but also in design that challenges existing modes of practice. The MSD-RAS explores how design practice, through engagement with robotics technologies, can re-think design authorship in autonomous processes, and develop bespoke approaches to design agency within physical, material and robotic systems, for the fabrication or live-adaptation of experimental, speculative, architectural prototypes.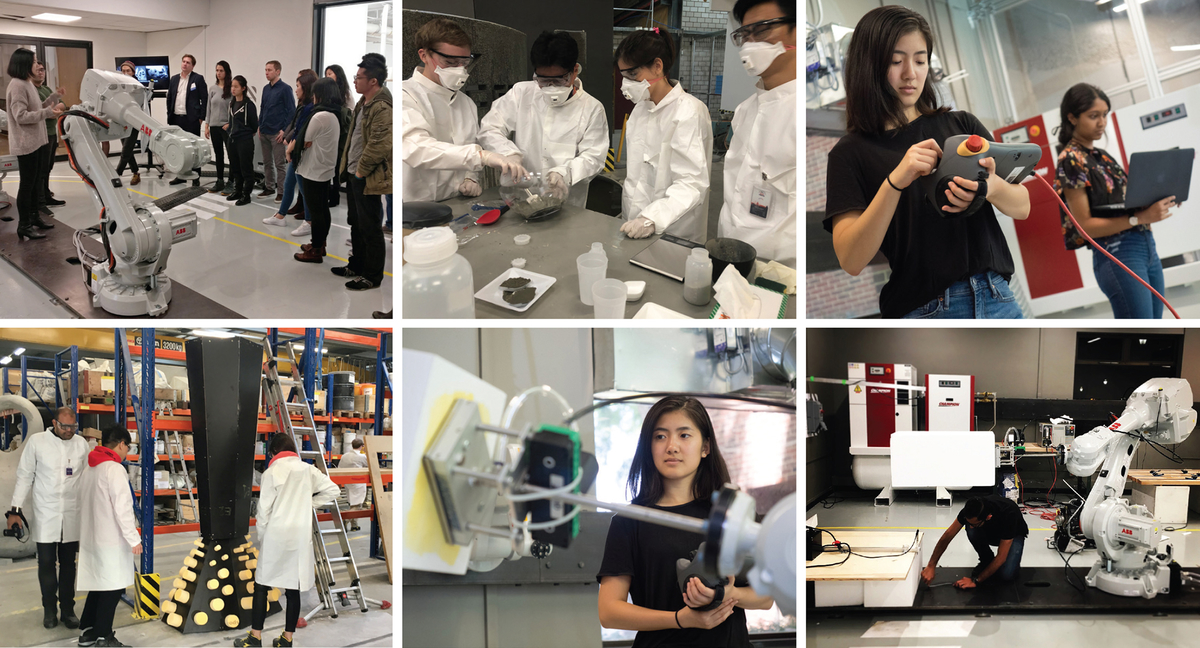 Fostering Innovative Career Trajectories
The MSD-RAS program aims to empower graduates to operate at the forefront of industry research and development, by gaining state of the art robotics, material fabrication, and design-computation qualifications, and to graduate as highly skilled professionals, capable of impacting the present and future trajectory of architecture and industry through novel forms of production, practice and entrepreneurship.
World-leading and Interdisciplinary Faculty
The MSD-RAS program is taught by some of Penn's most inter-disciplinary and internationally-experienced architecture faculty, while drawing on expertise from Penn Engineering and Computer Science departments to contribute expert knowledge in robotics, computer vision, electrical engineering, and more. The program director runs Autonomous Manufacturing Research Labs in both Architecture and Computer Science, bringing experience in multi-robot fabrication, construction, and multi-agent generative design. Other core faculty have experience in advanced design-computation, structural engineering such as 3d graphics statics, advanced fabrication for environmentally sustainable design, and 3D lidar scanning and BIM data—used to document some of the greatest Baroque churches in the world. Penn's faculty is actively doing work related to the core topics of the MSD-RAS, such as a full-scale Design-For-Disassembly precast concrete house prototype in collaboration with Cemex that leverages robot hot-wire cutting for the production of formwork molds, a robot curve-folded sheet-metal installation undertaken in collaboration with Robofold, or an advanced environmentally performative cooling-oculus skylight that is fabricated using thermo-adapative robot metal sheet forming.
ARI Robotics Lab
MSD-RAS students will utilize Penn's new ARI Robotics Lab facility that houses state of the art industrial robots and experienced staff. The new facility includes an industrial robot track system with 2 x ABB IRB4600-60 robots that provides a flexible production space for individual and team-based robot production. Considerable investment in auto-tool changing capabilities enables an extensive range of production activities to be undertaken with minimal set-up time such as 7-axis robotic milling, additive manufacturing, sheet-metal bending or robot hot-wire cutting. ARI facilities also include ABB IRB120 robots, 3d printers, pre and post-production work spaces and equipment for supporting fabrication and robot tooling development. Students in the MsD-RAS will be trained to utilise the ARI industrial robots, and it is expected that a considerable amount of their design-research is developed through robotically fabricated prototypes.
Curriculum
The MSD-RAS program comprises of the following courses:
Summer
ARCH XXX Introduction to 3D Programming (2 week course prior to start of Fall Semester)
Fall
ARCH 801 Material Agencies: Robotics & Design Lab I (2 CU)
ARCH 803 General Overview of Algorithmic Design and Robotic Fabrication (0.5 CU)
ARCH 805 Introduction to Micro-controllers, Sensor and Actuator Systemsb (0.5 CU)
ARCH 807 RAS Theory (1 CU)
ARCH XXX Open Elective (Within Architecture + Engineering) (1 (CU)
Spring
ARCH 802 Material Agencies: Robotics & Design Lab II (2 CU)
ARCH 804 Advanced RAS Programming (1 CU)
ARCH 806 Experimental Matter (1 CU)
ARCH 808 Scientific Research and Writing (1 CU)
Total Course Units: 10
Admission Requirements
The Master of Science in Design degree (MSD) is intended for post-graduate students who already hold a first professional degree from an accredited design program in architecture or have completed equivalent programs of study in related design and engineering fields who can demonstrate their ability to complete the required course of study. The course aims provides an inclusive environment that is strengthened by contributions from people of all races, religions, countries of origin, genders, ages, sexual orientations, physical abilities, learning differences, and socioeconomic backgrounds.
Visit our Admissions section for specific information regarding admissions. Applicants must submit three letters of recommendation, official transcripts from each US college or university attended for credit and/or a BASIC course-by-course evaluation from World Education Services from institutions outside of the United States, a résumé, a digital portfolio of design work, one writing sample, a description of computing skills and software proficiency, and a personal statement describing his/her educational goals in taking the program.
Applicants to the Master of Science in Design must also submit official GRE scores. International applicants must submit official IELTS Academic, PTE Academic, or TOEFL scores if English is not their first language. All applications are reviewed by the Admissions Committee of the graduate program.
Applications Due: January 2, 2020
Program Director: Robert Stuart-Smith, rssmith@design.upenn.edu
Program Faculty: Andrew Saunders, Dorit Aviv, Ezio Blazetti, Robert Stuart-Smith, among others.
Department of Architecture Chair: Winka Dubbeldam, Assoc. AIA