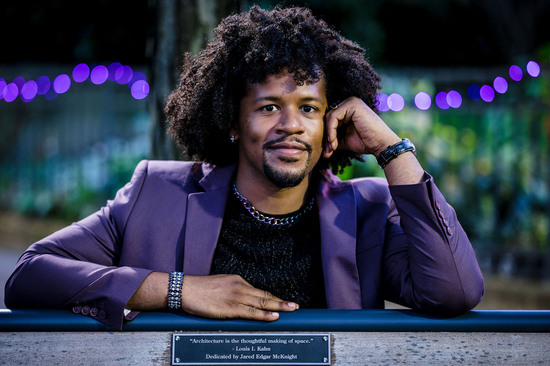 Director of Justice and Belonging (JxB)
Matthew Jordan-Miller Kenyatta Ph.D. (or "Dr Matt") is a geographer, storyteller, and planning scholar who works at the intersection of place, taste, and urban change from Afrofuturist queer perspectives. From 2018 to 2021 he was appointed as a Provost's Postdoctoral Fellow in the University of Pennsylvania Stuart Weitzman School of Design's Department of City Planning as a researcher and lecturer in Architecture. In 2021, he was appointed as the School's first Director of Justice & Belonging Initiatives. He was named an Emerging Scholar by the Penn Institute for Urban Research and a member of the Mellon Humanities + Urbanism + Design (HUD) Colloquium at Penn. In summer 2021, Dr. Matt was appointed by the City as the youngest member of the Philadelphia Art Commission, the oldest public art and architecture jury in the country.
Dr. Matt's academic scholarship focuses on the cultural and economic geographies of Black joy, speculative placemaking and public space design (especially in commercial corridors), and preserving diasporic heritage. Since 2020, he has been writing his first manuscript under contract with Penn Press about Black urban design through the visionary small businesses in South Central Los Angeles based on his transdisciplinary doctoral work and his ongoing photography project @BlackUrbanism. His work has been published as articles in Planning Theory & Practice and he has forthcoming book chapters in edited volumes by Duke University Press and MIT Press. His perspectives quoted by Bloomberg's CityLab and Philadelphia Magazine. Dr. Matt also maintains an artistic practice in photography, filmmaking, social practice art, and fiction writing - or "worldbuilding" in short.
Since his engagement to State Representative and U.S. Senate candidate Malcolm Kenyatta went viral in 2020, he has become an increasingly visible LGBTQ+ leader. He made history as the first gay political spouse to ever address the Democratic National Convention and was honored by President Joe Biden at the White House for Pride Month in 2021. Dr. Matt has been featured in the national publications OUT Magazine, Pride, The Root, The Advocate, and ESSENCE. He is a native of Northern California and a first-generation graduate of Stanford and MIT; he is the first African American to earn the Ph.D. in Urban Planning from the University of Southern California.
Recent Publications
Miller, M.J. (2018). "If I Built the World, Imagine That: Reflections on World Building Practices in Black Los Angeles." Journal of Planning Theory and Practice (19.2; Spring 2018): 254-288.
(Full list can be found at Google Scholar profile (LINK: https://scholar.google.com/citations?hl=en&user=jvyCxGEAAAAJ )
Education
Ph.D., Urban Planning and Development, University of Southern California, 2018
Master of City Planning, Environmental Planning and Policy, Massachusetts Institute of Technology, 2014
Bachelor of Arts, Major: Urban Studies with Honors, Minor: African & African-American Studies, Stanford University, 2012