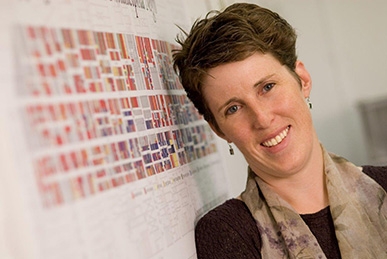 Associate Professor of Social Policy and Practice
Associate Professor, School of Social Policy & Practice (SP2)
Faculty Director, Master of Science in Social Policy, SP2
Senior Fellow, Leonard Davis Institute of Health Economics
Senior Fellow, Center for Public Health Initiatives

Professor Amy Hillier teaches courses relating to GIS, built environment and public health, and racism and social change for social work, social policy, city planning, and urban studies graduate and undergraduate students. Her research has focused largely on issues of geographic disparities and access to services and resources in disadvantaged communities. Her research has included GIS applications in historical mortgage redlining and housing discrimination, affordable housing, and park use, food shopping, and exposure to outdoor advertising. Her recent research and advocacy focuses on well-being of LGBT youth, particularly trans youth of color. Current research includes a critical participatory action research (CPAR) project with young adults about the experiences of trans youth in Philadelphia public schools, a survey of parents of transgender children about their experience with a support group, a survey about teacher responses to implementation of a policy supporting the rights of transgender students in the Philadelphia public schools, and in-depth interviews with transgender young adults about their experience of sharing their gender identity with their families.
In 2016, Dr. Hillier was awarded the School of Social Policy & Practice Teaching Award and the School of Design's G. Holmes Perkins Distinguished Teaching Award.
Recent Research
Dr. Hillier's research has focused on a number of areas: (1) historical GIS; (2) built environment and public health; and, most recently (3) transgender youth and their families. Some recent projects include:
Evaluation of Novel Nonprofit Supermarket in Chester, PA. Philabundance, the region's largest food bank, opened a nonprofit market ("Fare & Square") in Chester PA, a city 13 miles south of Philadelphia in the fall of 2012. Our research team conducted surveys and interviews with Chester residents before the store opened and again two years later to assess the impact on their food shopping patterns.
The Ward: Race and Class in Du Bois' Seventh Ward. With her fellow social workers, Dr. Stephanie Boddie, Dr. Hillier co-directs this teaching, research, and public history project aimed at recreating W.E.B. Du Bois's 1896 foot survey of Philadelphia's Seventh Ward, published in The Philadelphia Negro, using GIS. Through online interactive maps, a board game, mural (Sixth and South Streets), walking tour, documentary, and high school curriculum, the project engages students in learning Du Bois' timeless lessons about racism and the role of research in affecting social change. Visit the website.
High School Experiences of Transgender Youth. After drafting a policy for the School District of Philadelphia enumerating the rights of transgender and gender non-conforming students (Policy 252), our team began interviewing high school youth to learn more about their experiences. We chose Participatory Action Research (PAR) as our method in order to ensure that youth were involved throughout the research process, following the PAR mantra, "Nothing about us without us is for us."
Families and Gender Transitions. This study explores the experience of transgender and gender non-conforming (T/GNC) young adults when first sharing their gender identities with their parents. Much of the existing literature frames families in rigid binary categories as either supportive or unsupportive rather than a continuum that changes over time. This study will look at how parents and children navigate moving through this continuum of support and acceptance by gathering narrative accounts of parents and children about how their relationship develops over time. We will interview parents and T/GNC young adults about their gender transition. The focus of the interviews will be phenomenological in nature; that is, the focus of the interviews will be on capturing the lived experience of a phenomenon, in this case gender transition.
Media Links
Dan Charles, "Group Maps City Access to Healthy Foods," NPR (2007)
Amy Hillier, "Mapping experiences and access to opportunity in cities," TEDx Philadelphia (2012)
"Legacy of Courage: WEB Du Bois and The Philadelphia Negro," 19-minute documentary (2012)
"252," 8-minute video about creating of Policy 252 enumerating the rights of transgender students.
Publications
Recent Publications by Dr. Hillier include:
Hillier, A, Smith, TE, Whiteman, ED, Chrisinger, B. (2017) Discrete choice model of food store trips using National Household Food Acquisition and Purchase Survey (FoodAPS). International Journal of Environmental Research and Public Health 14(10): 1133.
Hillier A, Han B, Eisenman TS, Evenson KR, McKenzie TL, Cohen DA (2016). Using Systematic Observations to Understand Conditions that Promote Interracial Experiences in Neighbourhood Parks. Urban Planning 1(4): 51-64.
Hillier, Amy, Chilton, Mariana, Zhao, Qianwei, Szymkowiak, Dorota, Coffman, Ryan, Mallya, Giridhar. (2015), Concentration of tobacco advertisements at SNAP and WIC Stores, Preventing Chronic Disease, 12:E15.
Hillier, Amy and Chrisinger, Benjamin (2017) The Reality of Urban "Food Deserts" and What Low-income Food Shoppers Really Need. Chapter in John Jackson, editor, The SP2 Penn Top Ten Social Justice & Policy Issues for the 2016 Presidential Election.
Courses
CPLN 503: Modeling Geographic Objects CPLN
URBS 330/530: GIS Applications in Social Science
SWRK713: Understanding Social Change
SWRK 730: Community Mapping