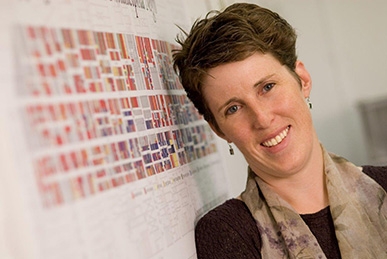 Associate Professor of Social Policy and Practice
Biography
B.A., Middlebury College
M.S.W., University of Pennsylvania
Ph.D., Social Welfare, University of Pennsylvania
Certificate in Urban Studies, University of Pennsylvania
Faculty co-director, Cartographic Modeling Lab
Senior Fellow, Leonard Davis Institute of Health Economics
Senior Fellow, Center for Public Health Initiatives
Secondary faculty appointment in the School of Social Policy & Practice
Professor Amy Hillier teaches courses relating to GIS, built environment and public health, and community development in city planning, urban studies, public health and social work. Her research focuses on issues of geographic disparities and access to services and resources in disadvantaged communities. Her research has included GIS applications in redlining and housing discrimination, affordable housing, and public health. Her dissertation, funded by the Department of Housing and Urban Development (HUD), considered the impact of the Home Owner's Loan Corporation on lending in Philadelphia. She continued this research as a HUD Urban Scholars Post-doctoral Fellow. See http://cml.upenn.edu/redlining
Prior to joining the faculty at PennDesign, Dr. Hillier worked at the University of Pennsylvania's Cartographic Modeling Lab (CML) (http://cml.upenn.edu) where she was the director of research. While at the CML, she worked with faculty across disciplines to integrate GIS and spatial analysis into their projects relating to obesity, gun violence, pre-term birth, and injuries to children.
In 2006, Dr. Hillier was awarded the Michael B. Katz Award for Teaching Excellence in Urban Studies.
In 2011, she was invited to present at TEDx Philly. See her talk about how we are failing our children and how GIS and spatial technologies can help at http://www.youtube.com/watch?v=HQ6d0By7GhE.
Work/Research
Most of Dr. Hillier's current research focuses on public health and the built environment. She frequently collaborates with colleagues at the School of Medicine and The Food Trust.
Food, Physical Activity, and Obesity
Measuring and Modeling Healthy Food and Activity Landscapes. This four-year study funded by the USDA (Karen Glanz, PI) uses mixed-methods, including cartographic modeling, to assess residents' shopping and physical activity patterns and barriers and facilitators to healthy food access and physical activity. We conducted 500 door to door surveys with residents on 30 randomly-selected blocks in West and Southwest about food shopping and physical activity, 25 in-depth interviews with residents, and surveys of the availability of healthful foods in 370 food stores using the Nutrition Environment Measure Survey for Stores (NEMS-S). The project will involve significant community involvement, including a community advisory board and community meetings, and a pilot intervention to address the barriers to healthful food identified through the research.
Evaluation of Novel Nonprofit Supermarket in Chester, PA. Philabundance, the region's largest food bank, plans to open a new market ("Fare and Square") in Chester, a city 13 miles south of Philadelphia that currently has no supermarkets, in fall 2012. With Dr. Marina Barnett (Widener University), we are collecting baseline information about where residents currently shop, what foods they purchase (including fruits and vegetables), and how they prepare meals. After the market opens, we will interview participants again to see if the market has had an impact on their food shopping and consumption patterns.
Evaluation of Farmers' Market Coupon Program on WIC Participants. With the Greater Philadelphia Coalition Against Hunger, we are assessing the impact of a special program in summer 2010 that gave WIC participants $80 in farmers' market coupons. We completed 150 surveys with WIC participants and are analyzing redemption data to understand who redeemed their vouchers, where they redeemed them, and what their experience was at farmers' markets.
Evaluation of the Changes to the WIC Food Package on the Food Environment. The federal government changed the WIC food package in 2009 to include fruits and vegetables, whole grains, and reduced-fat milk. We used the Nutrition Environment Measure Survey for Stores (NEMS-S) to determine what was in food stores in two ZIP code areas in North Philadelphia before and after the WIC food package changes. We found a significant improvement in all stores but a larger improvement in the availability of healthful foods in WIC-authorized stores.
System for Observing Play and Recreation in the Community (SOPARC). Dr. Hillier led the Philadelphia site of a 5-city study of physical activity levels in parks using the SOPARC measurement system (Deborah Cohen, RAND Corporation, PI). We conducted observations in six different Philadelphia parks, completed surveys with residents and park users, and had 40 residents wear GPS and accelerometers for three weeks to see where they are physically active.
Food and Exercise Diaries for Urban Places (FED-UP). This project looks at the availability of junk food near schools and how that might impact children's weight status. FED-UP will use interactive mapping and handheld wireless technology to allow children to show the route they take to school and the specific food items they purchase on the way. To view the prototype web-based application, go to http://fedup.azavea.com. Username: feduptester Password: fed*up
Outdoor Advertising
Monitoring the Promotion of Tobacco and Sugary Beverages at Tobacco Retail Outlets. In conjunction with the City of Philadelphia's Get Healthy Philly initiative, we are surveying ads for tobacco and sugary beverages inside and outside of 1500 tobacco outlets in the city. We will also interview store managers and conduct focus groups with residents.
Five-city Study of Outdoor Ads. With students at Cheyney University and colleagues in four other cities (Antroinette Yancey, UCLA, PI), we used GPS and digital cameras to record the location and content of outdoor advertisements in five zip code areas in Philadelphia and used GIS and spatial statistical analysis to document clustering of ads for unhealthy products around child-serving institutions. For more on this project visit http://whyy.org/cms/news/health-science/2009/07/09/mapping-ads-in-philly...
Historical GIS Projects
The Ward: Race and Class in Du Bois' Seventh Ward. Dr. Hillier directs this curriculum, research, and public history project aimed at recreating W.E.B. Du Bois's 1896 foot survey of downtown Philadelphia, published in The Philadelphia Negro, using GIS. To listen to an NPR story linking the mapping in this project to efforts in Pennsylvania to secure financing for new supermarkets, visit http://www.npr.org/templates/story/story.php?storyId=7097476.
The Ward features an interactive GIS with individual and household-level 1900 US Census data for the households making up the Seventh Ward that Du Bois studied. The project also included work with the Philadelphia Mural Arts Program on a mural honoring Du Bois and the historically segregated black fire house, Engine Company 11. Dr. Hillier and her team are developing a five-day high school curriculum based on The Philadelphia Negro that aims to engage students in an honest dialog about the role of race and racism in their lives, today. The curriculum includes a board game and a 19-minute documentary, "A Legacy of Courage: W.E.B. Du Bois and The Philadelphia Negro." To read more about this project, visit the project website: www.dubois-theward.org
PhilaPlace. Dr. Hillier partnered with Dr. Joan Saverino and the Historical Society of Pennsylvania on PhilaPlace, a neighborhood and cultural history project focused on South Philadelphia and Northern Liberties. Dr. Hillier and her students are working on the mapping component, which includes static GIS maps and an interactive mapping system that allows current and former residents to share stories about their neighborhoods. See www.philaplace.org.
Publications
Recent Publications by Dr. Hillier include:
Hillier, Amy, McLaughlin, Jacqueline, Cannuscio, Carolyn, Chilton, Mariana, Krasny, Sarah Karpyn, Allison (in press). The Impact of WIC Food Package Changes on Access to Healthful Foods in Two Low‐income Urban Neighborhoods. Journal of Nutrition Education and Behavior.
Hillier, Amy, Cannuscio, Carolyn, Karpyn, Allison, McLaughlin, Jacqueline, Chilton, Mariana and Glanz, Karen (2011), How Far do Low-Income Parents Travel to Shop for Food? Empirical Evidence from Two Urban Neighborhoods, Urban Geography 32(5): 712-729.
Hillier, Amy (2010), Invitation to Mapping: How GIS Can Facilitate New Discoveries in Urban and Planning History, Journal of Planning History 9(2):122-134.
Hillier, Amy, Cole, Brian, Smith, Tony E., Yancey, Antronette, Williams, Jerome, Grier, Sonya and McCarthy, William (2009), "Concentration of Unhealthy Outdoor Advertisements Around Child-serving Institutions: A Three-city Comparison." Health & Place
Hillier, Amy (2007), Why Social Work Needs Mapping, Journal of Social Work Education 43(2): 205-221.
Hillier, Amy (2008), Childhood Overweight and the Built Environment: Making Technology Part of the Solution Rather than Part of the Problem, The Annals of the American Academy of Political and Social Science 615(1): 56-82.
Placing History: How Maps, Spatial Data, and GIS are Changing Historical Scholarship, edited by Anne Kelley Knowles, Redlands, CA: ESRI Press, 2008. Dr. Hillier edited the digital supplement for the book and co-authored a chapter entitled "GIS in Liberal Arts Education."
To access .pdf versions of Dr. Hillier's publications, please visit http://works.bepress.com/amy_hillier/
Courses
CPLN 503: Modeling Geographic Objects CPLN 622: Community Development and Public Health URBS 330: GIS Applications in Social Science SWRK 730: Community Mapping