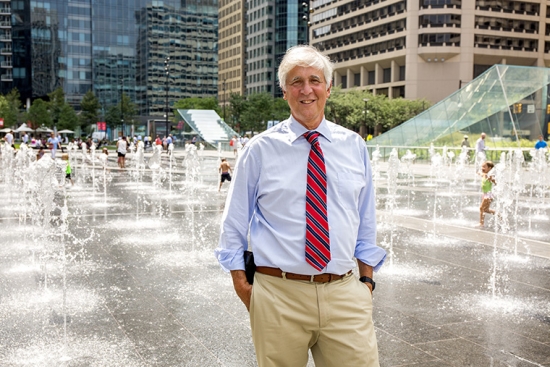 Since 1979, Mr Levy has taught at the University of Pennsylvania in the City Planning Department directing graduate planning studios focused on Philadelphia and an introductory course on downtown development and management. Other teaching experience includes Temple University (1977-1984), Columbia University (1974-1976), Public School 155 Oceanhill-Brownsville, Brooklyn, NY (1971-1972) and Public School 186, Bronx, New York (1969-1970).
He is the founding President and chief executive officer of Philadelphia's Center City District (CCD), serving in that capacity since January 1991. Mr Levy planned, received property owner and legislative approval for, and now directs the $14 million downtown management district, which provides security, hospitality, cleaning, place marketing, promotion, and planning services for the central business district of Philadelphia. Mr Levy also oversaw property owner and legislative re-approval of the District in 1994 and 2004 enabling the CCD to finance and carry out capital improvements. To date, the CCD has completed $43 million in streetscape, lighting, park and façade improvements.
Mr Levy also serves as executive director of the Central Philadelphia Development Corp., (CPDC), an advocacy and planning organisation supported by the downtown business community. Among its recent initiatives are: advocacy and advertising efforts to increase the downtown residential population through the conversion of vacant office buildings to apartments; business retention and recruitment focused on the commercial office sector;
Earlier in his career, as director, project development, for the University of Pennsylvania Department of Real Estate from 1984-1990, Mr Levy served as project manager for the design and construction of mixed-use office and retail developments at 3401 Walnut Street, the PGH Health Center; and the 34th & Chestnut Street Garage. Mr Levy also served at the Philadelphia Parking Authority (1982-1984), the Philadelphia Office of Housing and Community Development, (1980-1982) and the Institute for the Study of Civic Values (1976-1980).
Mr Levy has an MA and PhD in history from Columbia University and an undergraduate degree in history from Lafayette College. He serves on the boards of many civic organisations, including the Greater Philadelphia Chamber of Commerce, the Philadelphia Convention and Visitors Bureau Executive Committee and the Independence Visitor Center Corporation. He is a past chairman of the International Downtown Association.
His many personal awards include the 2002 Wyck-Strickland Award for contributions to the cultural life of Philadelphia, the 2002 Philadelphia Committee on City Policy Community Leadership Award and the 1996 Pennsylvania Society of Architects Honor Award for contribution to an improved public environment by a non-architect. In addition, the Center City District and Central Philadelphia Development Corporation have received many international, national and local awards for their contributions to the quality of life in Philadelphia.
Mr Levy lives in Center City Philadelphia with his wife and two daughters.