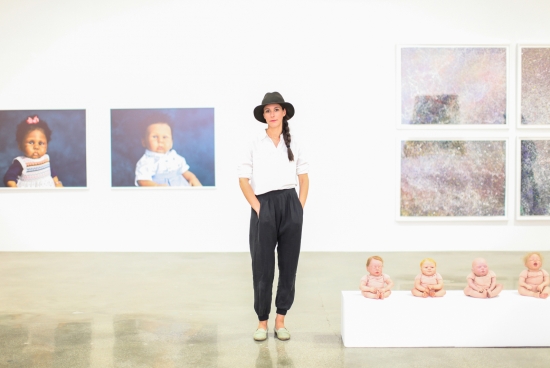 Diamond received her MFA from the University of Pennsylvania in 2008 and BA from the University of Wisconsin in 2005. Her work is grounded in photography, questioning notions of identity, intimacy, and reality. She's interested in the dialogue surrounding representation and photography's relationship to truth.
She has exhibited her work in solo and group exhibitions nationally and internationally, including AJL Art (Berlin), Jan Dhaese Gallery (Antwerp), Ramis Barquet (New York), Moeller Snow (New York), P339 Gallery (Brooklyn), Jolie Laide (Philadelphia), Spring Break Art Fair( New York), Cauldron Projekts (Birmingham), Samson Projects(Boston), Kunstalle Galapagos (Brooklyn), The Pennsylvania Convention Center (Philadelphia), Mana Glass House (New Jersey City), Kurant Tromso (Norway), Projects Gallery (Philadelphia), Michael Steinberg (New York), and Icebox Gallery (Philadelphia).
Her work has appeared in numerous publications including The Philosophy of Photography Journal, The New York Times, The Philadelphia Inquirer, The Last Magazine, PBS Online Series, The Art Blog, Phaidon, and Dummy Magazine. Diamond is also a recipient of the Toby Devan Lewis Fellowship Award(2008); the NYFA Fellowship Award in Photography(2014); & was an Artist in Residence at Mana Residency (2014); The Bronx Museum(2014); LMCC Swing Space residency (2013); LMCC Work Space residency(2008-2009) and was a visiting artist at New York University(2009).
Jamie Diamond currently lives and works in New York City.
The Radisson Family

Nine Months of Reborning

Marilyn, Staten Island