Subscribe to Design Weekly e-News
Brittle Materials: The Seismic Stabilization, Repair and Restoration of 1914 Brick and Terra Cotta at the First Congregational Church of Long Beach, California
Morgan Gallery
To ensure the health and safety of everyone at Weitzman events, visitors to Penn's campus are required to register in advance and complete PennOpen Campus on the day of the event. Members of the Penn community do not need to register in advance, but will be required to present a valid PennCard as well as PennOpen Pass for entry to in-person events. Please plan to arrive early. Face coverings are required indoors in public and shared spaces on the Penn campus.
John Fidler will describe and explain the recent award-winning investigations, iterative design, and implementation of works to conserve the Italian Romanesque Revival facades of an active downtown church suffering from multiple earthquake events, marine climate conditions and inadequate previous construction and repairs.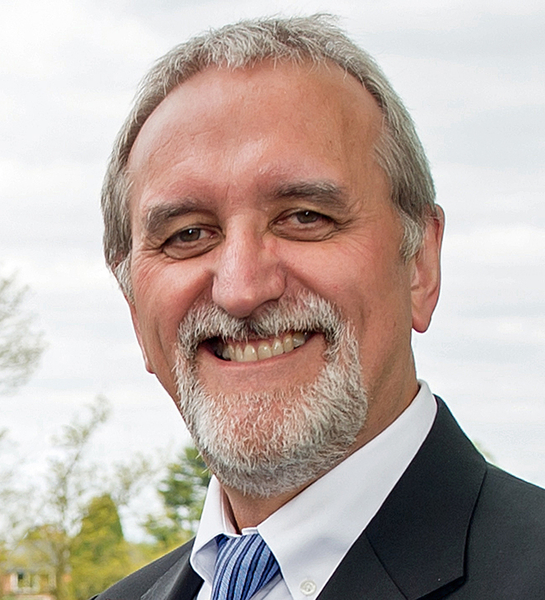 John Fidler established the consultancy practice John Fidler Preservation Technology Inc. in 2012, offering now his forty-one years of international, award-winning, technical experience in support of owners, architects, engineers, conservators and contractors concerned with the conservation, restoration and rehabilitation of historic buildings, ancient monuments and archaeological sites.
A British-licensed architect with two postgraduate degrees in building conservation, John Fidler is an internationally-renowned technical expert in the study of historic building materials and construction, their forms of decay and deterioration, and in their benign, cost-effective and sustainable treatment. He has particular expertise relating to brick, stone and terra cotta masonry and mortars, plasters and grouts, and he is an authority on the uses of non-destructive diagnostic techniques used in conservation. He is a prolific author and informative and entertaining lecturer.
Fidler is a voting member of ASTM Committees C7 Lime and C12 Mortars and Grouts for Unit Masonry. He previously chaired the British Standards Institution drafting committee for BS 8221/2: 2000 The Cleaning and Surface Repair of Buildings; authored BS 6270 Part 1 Amendment G Architectural Terracotta and Faience; and sat on the BSI committee for EN 459 Building Limes. He is an international authority on the conservation of exterior architectural ceramics and has published widely on the subject.
He is a member of the Royal institute of British Architects and an Associate of the American Institute of Architects; a member of the Institute of Historic Building Conservation; and of the United Kingdom and American Institutes of Conservation. He is a Fellow of the Royal Institution of Chartered Surveyors, of the Society of Antiquaries, of the International Institute for Conservation and of the Association for Preservation Technology. His qualifications far exceed conformity to the Secretary of the Interior's Professional Qualification Standards as a historical architect.
Current work includes: rewriting and editing of the fourth edition of Sir Bernard Feilden's Conservation of Historic Buildings (Taylor & Francis, 2023 forthcoming); technical advice on the cleaning and repair of the eighteenth century masonry gateway to Dublin Castle, and repair of stone facades at Leinster House (Irish Parliament) in Dublin, Ireland (both government owned protected structures); the award-winning $6 million facade stabilization and repair of the 1938 Streamline Modern designed Saban (formerly May Co. department store) Building at the new Academy Museum of Motion Pictures in Los Angeles (a local Cultural-Historic Monument); the $4 million consolidation and repair of the ruined 1769 stone plantation house of Menokin, in Warsaw, VA (a National Historic Landmark); and just completed, the $2 million repair and restoration of the 1915 brick and terra cotta facades of the First Congregational Church in Long Beach, CA (a locally-designated landmark on the National Register of Historic Places).
Before immigrating to America in 2006, John was the Conservation Director of English Heritage in London: the most senior architect in the British civil service – broadly equivalent to the Chief Historical Architect of the U.S. National Park Service. With over 100 staff and consultants, and an annual budget of $6 million, he was responsible for national technical policy development; technical research; advisory services; standardsetting; training; publications and outreach.
He was the UK delegate to ICCROM, and served on its managing Council where he was Vice President for programs. He also served on the grants committee of the Getty Foundation
If you require any accessibility accommodation, such as live captioning, audio description, or a sign language interpreter, please email news@design.upenn.edu to let us know what you need. Please note, we require at least 48 hours' notice. If you register within 48 hours of this event, we won't be able to secure the appropriate accommodations.