Subscribe to Design Weekly e-News
Building Facades from Tihosuco, Quintana Roo, Mexico

Building Facades from Tihosuco, Quintana Roo, Mexico

Building Facades from Tihosuco, Quintana Roo, Mexico
Kasey Diserens Morgan | Rethinking Facadism: Materiality and the Politicization of Historic Structures
Meyerson Hall, Upper Gallery
Facadism is the act of building designers or urban planners bowing to the pressures of development and keeping the front façade but demolishing the remainder of a building (c.f. Hurley 2010). Generally, the promise of facadism is an empty one. It relegates a historic structure to mere decoration or an empty shell of the past, keeping only what can be seen as unique, marketable, or beautiful. Evolving from this concept, I see cultural facadism as these same processes played out on cultures and people, creating larger cycles of erasure, privileging of specific histories, and expressions of power and control over marginalized groups.
Following the declaration of national patrimony and the creation of a historic zone in Tihosuco, Quintana Roo, Mexico, I will present the ways in which the materiality of buildings and restoration work being done on them recreates some of the entrenched hierarchies of power within the region. As the epicenter of the Caste War (1847-1901), an indigenous rebellion that sought freedom from oppressive social and economic systems, Tihosuco has a powerful history and extensive built heritage from the 18th and 19th centuries. Families living there today continue to use the colonial houses as residences, but most of them need extensive work to be truly functional again. Because of the declaration, promises of government restoration projects have become tools for local politicians to increase their visibility in the community, but have erased some of the patina and caused further damage to the structures. These interventions have changed the relationship between the buildings and the community, creating streetscapes of sanitized facades, with no benefit to those who live behind them.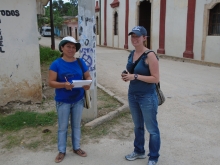 Kasey Diserens Morgan is a doctoral candidate in Anthropology at the University of Pennsylvania. She also has an MS in Historic Preservation from the Weitzman School of Design ('13). Her research explores the intersection of politics, heritage, and preservation in rural Mexico using methods drawn from historic preservation, ethnography, and archaeology.