Subscribe to Design Weekly e-News
Fort Union National Monument, New Mexico

Extreme weather caused catastrophic disaster when walls of this historic monument collapsed in the summer of 2014.

Evan Oskierko-Jeznacki taking measurements with a RFID scanner at Fort Union National Monument, New Mexico
Simple RFID technology helps save Fort Union National Monument from collapse
Evan Oskierko-Jeznacki, PhD Fellow & Research Associate at the Center for Architectural Conservation uses new RFID (radio frequency identification) technology on historic adobe ruins at Fort Union National Monument in New Mexico. By using RFID moisture sensors readable with commercially available RFID equipment —the same technology used in everyday store antitheft systems—Oskierko-Jeznacki is able to monitor shelter coat leaks and moisture intrusion in the largest 19th century earthen ruin in North America.

Established in 1964, Fort Union National Monument commemorates the United States' expansion of the American frontier during the age of Manifest Destiny. Long rectangular voids in the adobe walls once served as doors and windows. Now there are no roofs, there is no shelter, these ruins are exposed to the elements all around them. Although climate predictions suggest the American Southwest will become hotter and drier, heavy rains are also forecasted, which could overwhelm the adobe, mud brick, structures. This extreme weather could spell catastrophic disaster such as collapsed walls of this historic monument, such as the event that occurred in the summer of 2014 (photo).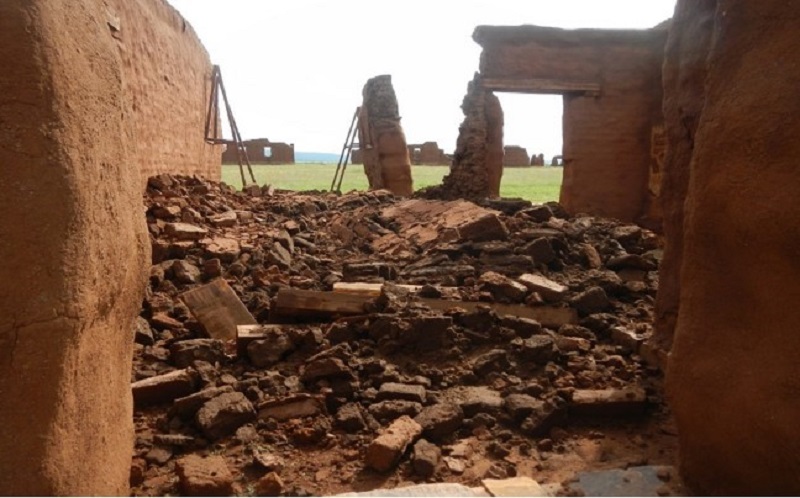 The use of RFID technology is a low-cost, non-destructive monitoring technique used to measure moisture, a critical attribute to the structures' durability. Using this technology Oskierko-Jeznacki is able to better understand damage mechanisms in terms of their severity, frequency, location, and rate of occurrence. With this information he can begin the process of implementing remedial and preventive, rather than reactive, strategies.
Oskierko-Jeznacki presented his research at The Association for Preservation Technology International (APT) Conference in November 2019.