Field Notes: Sound Studies at the Philadelphia International Airport
With support from the Mellon Humanities+Urbanism+Design Initiative, this semester PennDesign's Graduate Program in Historic Preservation and the School of Arts and Sciences' Department of Music joined forces to introduce "Cities and Sound: The Spatial Politics and Practices of Sound in Modern Urban Life." This new, interdisciplinary graduate seminar probes the subject of urban sound through the dual lenses of theory and practice. Here, student Kyle Block, who will graduate from the Master of Urban Spatial Analytics (MUSA) program next spring, reports on the class's first-hand look at efforts to manage noise at the Philadelphia International Airport (PHL).
There was a time, during the Industrial Revolution, when the din of a factory powered by a watermill was considered to be a positive sign of economic progress. During the early to mid-20th century, however, the proliferation of such sounds from factories, highways, railroads, and, of course, airports, altered the way urban residents perceived these new "noises." Professors Francesca Russello Ammon and Naomi Waltham-Smith designed the seminar to trace this transformation across space and time, engaging students from multiple schools. I enrolled because I find sound to be an under-appreciated but powerful quality in urban design, and was keen to examine how sound as a medium can be used as to influence urban residents quality of life and the political questions around such dynamics.
Modern airports are one of the largest sources of urban noise, and their construction and management often lead to difficult negotiations between engineers, city planners, civic leaders, and local communities. To see for ourselves, last month our seminar went to the Philadelphia International Airport to meet Gregory Maxwell, the Aviation Noise Abatement Program Manager, who provided an overview of the many factors contributing to aviation noise and the ways that large, urban airports like PHL have worked to limit the negative impact on local communities. Maxwell explained how aeronautical engineering has adapted to aviation noise abatement demands by developing more efficient engines and designing winglets that produce less noise while simultaneously increasing engine thrust.
PHL, like many urban airports, follows Federal Aviation Administration (FAA) regulations that were first established in 1979 to limit neighboring communities' exposure to debilitating aviation noise (defined as sounds that register above 65 decibels, on average, over a 24-hour period). Through a series of tests, PHL has established fixed landing and takeoff routes that avoid subjecting most residential- and educational-zoned sites to disruptive noise under standard wind conditions. Any alterations to the size, number, or configurations of runways, however, will require significant testing and abatement to meet FAA regulations. PHL has been exploring these potential impacts for years in advance of plans to construct a new runway.
Even with PHL's compliance with FAA regulations, some nearby residents still experience the negative impacts of excessive noise, which can include health problems and lower home prices. Nationwide, these impacts tend to fall disproportionately upon minority communities. In an effort to limit these residents' noise exposure, the FAA and PHL have deployed a $38.2 million grant to implement noise abatement measures in Tinicum Township homes that are located within the 65-decibel zone. These measures include the installation of new windows, doors, insulation, and air conditioning, in exchange for an airspace easement. Over the course of six years, nearly 600 households have elected to participate in the program. This process required substantial outreach and consultation with the local community, but has resulted in a decrease in overall noise complaints. Maxwell also noted that the airport's most prominent neighbor, the Delaware River, serves as a wide natural buffer and is one of many reasons why PHL receives relatively few noise complaints compared to other urban airports.
More News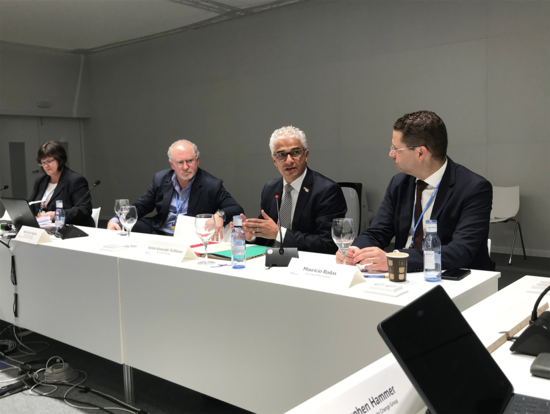 Mark Alan Hughes (second from left), founding faculty director of Penn's Kleinman Center for Energy Policy, engaged in conversation with Maryke van Staden, manager of the Low Carbon Cities Program, Ashok-Alexander Sridharan, mayor of Bonn, Germany, and Mauricio Rodas, former mayor of Quito, Ecuador. At COP 25, Penn also launched the City Climate-Resilient Infrastructure Financing Initiative (C2IFI), an effort to help connect cities to new financing mechanisms. (Photo Jocelyn Perry)
Subscribe to Design Weekly e-News