PennDesign Students Shortlisted in LIXIL Competition
A team of graduate students in the Department of Architecture led by faculty members Jonathan A. Scelsa and Ariel Genadt was shortlisted for LIXIL's 7th International Student Architectural Competition for the design and construction of a sustainable "Spa in Nature" in Hokkaido, Japan. The team's entry, The Veiled Garden, was selected as one of three finalists from 13 Invited universities around the world. The team will present their design to a jury led by Kengo Kuma in Tokyo on April 19 alongside teams from Vienna Technical University and Kyushu University.
According to the competition brief:

"The public baths of ancient Rome, the Great Bath in Pakistan's Mohenjo-daro, Germany's Baden Baden, England's city of Bath, Finnish saunas or Japanese onsen (hot spring) or steam baths going back to a time long before the Middle Ages – there are a variety of bathing customs found throughout the world. Even in earlier times, baths were not merely intended to remove soil and stains. They were also places of social interaction, public areas as relaxing as a living room. In the rich natural setting of Taiki-cho, Hokkaido, what would a relaxing bath spot be like? One should do more than simply soak. Imagine places to stretch or enjoy massage, stroll through the lush natural setting, dally away a day, or other kinds of activities. Under a roof or not? Do men and women share spaces? Aren't there new and untried ways of thinking about a bathing spot and its pleasures?"
The team's advisors are Richard Farley (structure) and Evan Oskierko-Jeznacki (thermodynamics).
More News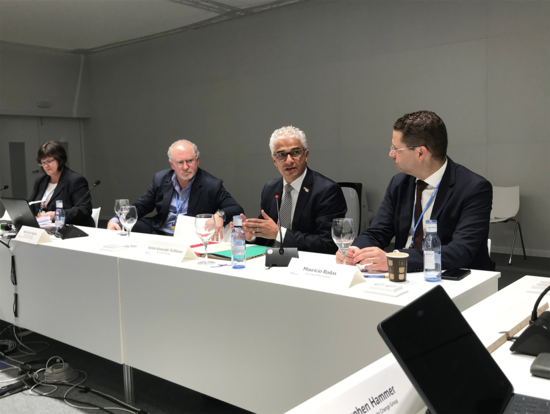 Mark Alan Hughes (second from left), founding faculty director of Penn's Kleinman Center for Energy Policy, engaged in conversation with Maryke van Staden, manager of the Low Carbon Cities Program, Ashok-Alexander Sridharan, mayor of Bonn, Germany, and Mauricio Rodas, former mayor of Quito, Ecuador. At COP 25, Penn also launched the City Climate-Resilient Infrastructure Financing Initiative (C2IFI), an effort to help connect cities to new financing mechanisms. (Photo Jocelyn Perry)
Subscribe to Design Weekly e-News