Subscribe to Design Weekly e-News
Documentation, Research, Recording Course Visits Research Site
Professor Francesca Ammon and Kecia Fong's Documentation, Research, Recording class visited the neighborhood research site on October 4th. The research site is consists of South Street, Lombard, and Rodman Streets between 6th and 15th. The tour began at Mother Bethel A.M.E. Church, the NE corner of 6th and Lombard Streets. We stopped at several vital spots during the tour visit, and professors lectured the brief history of the property or neighborhood and led the discussion.
The course's TA Agatha Sloboda introduced the history of Kater Street. In the early nineteenth century, Kater street was a notorious spot for immigrants struggling with poverty, violence, crime, and getting a job. In the 1850s, the Bedford Street mission moved to this site and helped with the life management of the neighborhood. They introduced the styles and features of the buildings and their historical alteration and addition. It is an excellent example to describe the historical building and naming the architectural elements.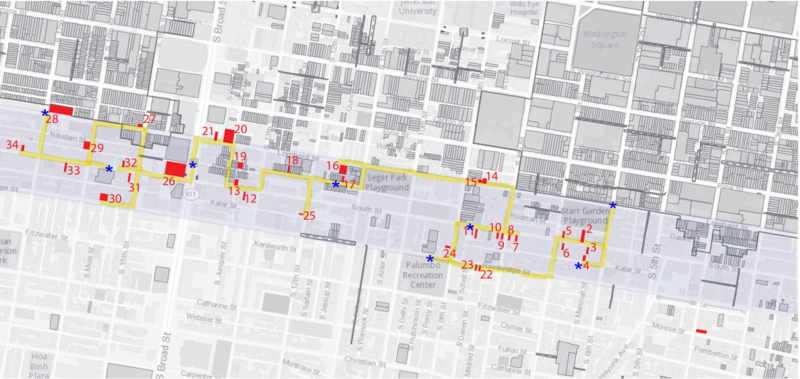 Most of the buildings on South Street, east of Broad Street, are commercial and mixed-use. Francesca and Kecia gave a brief history of the neighborhood, the express highway protest stories, and the relationship between those historical events and the properties. They also introduced the criteria and the process of the property's designation.
On Rodman Street, professors asked students to compare the historical photos and the current street view and observe what differences are. The current presence of Rodman Street has more trees and flags, which indicates it is much more dynamic and friendly than in the past. And there is the various presence between different streets and even different sides of the street, which are all pieces of evidence of the historical changes.
First-year HSPV student Jingyi Li shared that"It's kind of like the follow-up of the Summer Institute. It is a good visit to build a brief but comprehensive overlook of the whole neighborhood. Everyone in the class picked a single property as their research project this semester. Still, it is nice to have a chance to understand the history and particular historical events of the whole historical district. This dynamic historical area with multiple uses makes me like Philadelphia more."
Written by Ying Wang (MSHP'23), one of Historic Preservation's Comminication Assistants.