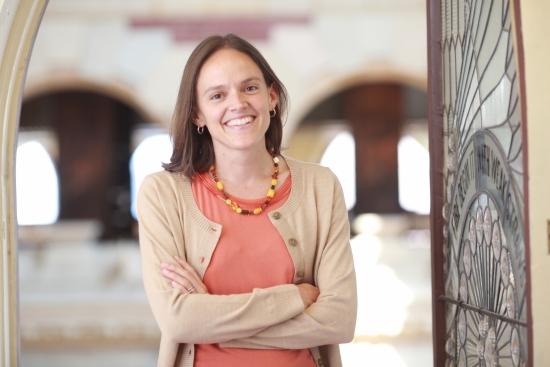 Associate Professor
City and Regional Planning and Historic Preservation
Associate Professor, City & Regional Planning and Graduate Program in Historic Preservation
Director, Initiative in the History of the Built Environment
Education
Ph.D., American Studies, Yale University
M.Phil, American Studies, Yale University
M.A., History, Yale University
M.E.D. (Master of Environmental Design), Yale School of Architecture
B.S.E., Civil Engineering, Princeton University
Background
Francesca Ammon is a cultural historian of urban planning and the built environment. Her teaching and research focus on the changing spaces of American cities, from World War II to the present. She grounds her interdisciplinary approach to this subject in the premise that the landscape materializes social relations, cultural values, and political and economic processes. Professor Ammon is particularly interested in the history of urban revitalization, with an emphasis on urban renewal; the dynamic relationship between cities and nature; public history as a tool for community-based research and engagement; and the ways that visual culture has shaped understanding of what cities are, have been, and should be.
At Penn, Professor Ammon is a member of the standing faculty of the City & Regional Planning Department and the Graduate Program in Historic Preservation. She also directs the Initiative in the History of the Built Environment. She is an associated faculty member of the History Department, an affiliated faculty member of the Center for Experimental Ethnography (CEE), and a Faculty Fellow of the Penn Institute for Urban Research. She has been a colloquium member of the Penn/Mellon Foundation Humanities + Urbanism + Design Initiative, a member of the Gender Sexuality and Women's Studies (GSWS) Executive Board, and an Andrew W. Mellon DH Fellow at the Price Lab for Digital Humanities. She is a board member and Co-chair of the Program Comittee for the 2022 conference of the Society for American City & Regional Planning History (SACRPH).
Before joining the Weitzman School faculty, Professor Ammon was a Visiting Scholar at the American Academy of Arts & Sciences. She has also been the receipient of an American Council of Learned Societies (ACLS) Fellowship, National Endowment for the Humanities (NEH) Digital Humanities Advancement Grant, Society of Architectural Historians (SAH)/Mellon Fellowship, Whiting Fellowship in the Humanities, Ambrose Monell Foundation Fellowship in Technology and Democracy through the Miller Center of Public Affairs, John E. Rovensky Fellowship from the Business History Conference, and Sally Kress Tompkins Fellowship, jointly sponsored by SAH and the Historic American Buildings Survey (HABS).
Research
Professor Ammon is the author of Bulldozer: Demolition and Clearance of the Postwar Landscape (Yale University Press, 2016), for which the Society for American City and Regional Planning History (SACRPH) awarded her the 2017 Lewis Mumford Prize for the best book in American planning history and the Society of Architectural Historians (SAH) awarded her a Mellon Author Award. The book is not only the first scholarly history of the bulldozer, but also a sweeping examination of how the postwar nation came to equate destruction with progress. Construction equipment contributed vitally to Allied victory during the war. Afterwards, war-honed machines, men, methods, and metaphors effectively came home to reshape the domestic landscape. Case studies of urban renewal building demolition, suburban land clearance, and earthmoving for interstate highway construction demonstrate clearance practices in progresses. Meanwhile, an excavation of the bulldozer in postwar literature, films, and art reveals its popular reach. Ultimately, the project demonstrates both the processes and products of the postwar "culture of clearance." Before the efforts of historic preservationists, neighborhood activists, and environmentalists began to temper the bulldozer's work, the ideology, technology, policy, and practice of large-scale destruction dramatically transformed the American landscape.
This project grows out of Professor Ammon's dissertation, for which she received the Anthony Sutcliffe Dissertation Award from the International Planning History Society (IPHS), the John Reps Prize from the Society for American City & Regional Planning History (SACRPH), the Zuckerman Prize in American Studies from the McNeil Center for Early American Studies, and was the mentioned finalist for the American Studies Association's (ASA) Ralph Henry Gabriel Prize.
Another strand of Professor Ammon's current research examines the relationships between urban renewal, rehabilitation, and historic preservation in the cities of Philadelphia and Montreal. This work is yielding traditional publishing products, as well as a digital public humanities project titled Preserving Society Hill. Built in collaboration with community partners, the website aggregates, digitizes, and spatializes a variety of sources related to the urban renewal and historic preservation of Philadelphia's Society Hill neighborhood, including: planning and architectural data, historical photographs, and an archive of nearly 90 oral history interviews and memoirs.
Additional research in progress explores the role of photographs in shaping planning and preservation discourse and practice. Professor Ammon organized a symposium at Penn on this general topic, titled "Picturing Policy: How Visual Culture Shapes the Urban Built Environment." During 2016-17, she also explored this interest as a Mellon Researcher with the project "Architecture and/for Photography" at the Canadian Centre for Architecture. She is currently collaborating with Brian Goldstein, Garrett Dash Nelson, and the Getty Research Institute on an NEH-supported digital urban humanities project related to photographer Ed Ruscha's "Streets of Los Angeles Archive."
Professor Ammon has published her work in the Journal of Planning Education and Research, Journal of Planning History, Journal of Urban History, Technology & Culture, Preservation Education and Research, Change Over Time, and the archive of the Historic American Buildings Survey. She has also been featured on popular radio programs including WNYC's The Takeaway, WNPR's The Colin McEnroe Show, KPFA's Against the Grain, and the PBS television documentary 10 Towns That Changed America.
She has presented her work widely, including at the annual and biennial meetings of the Society for American City & Regional Planning History, Urban History Association, Association of Collegiate Schools of Planning, Policy History Conference, Business History Conference, and the American Studies Association. In Fall 2019, she gave the opening keynote at the Deconstruction and Reuse Conference.

Book
Bulldozer: Demolition and Clearance of the Postwar Landscape (New Haven: Yale University Press, 2016).

Digital Public Humanities
Preserving Society Hill: Sites and Stories of Urban Renewal in a Philadelphia Neighborhood (initially launched in 2018, v2 launched in 2022).
"Captioning Milton-Parc," with photographs by Clara Gutsche and David Miller, in What You Can Do with the City (Canadian Centre for Architecture), October 20, 2017.

Articles and Chapters
"The Long History of Unfair Housing," co-authoried with Wendell E. Pritchett, in Perspectives on Fair Housing, eds. Reina, Pritchett, and Wachter (Philadelphia: U of Pennsylvania Press, 2020).
"Reversing the Tide of Suburban Families? The Design, Marketing, and Occupancy of Urban Renewal's High-rise Housing," Journal of Planning History (2020).
"Picturing Preservation and Renewal: Photographs as Planning Knowledge in Society Hill, Philadelphia," Journal of Planning Education and Research (2018).
"Resisting Gentrification Amid Historic Preservation: Society Hill, Philadelphia and the Fight for Low-Income Housing," Change Over Time 8, no. 1 (Spring 2018): 8-31.
"Digital Humanities and the Urban Built Environment: Preserving the Histories of Urban Renewal and Historic Preservation," Preservation Education and Research 10 (2018): 11-30.
"Post-Industrialization and the City of Consumption: Attempted Revitalization in Asbury Park, New Jersey," Journal of Urban History 41:2 (March 2015): 158-174.
"Unearthing Benny the Bulldozer: The Culture of Clearance in Postwar Children's Books," Technology and Culture 53:2 (April 2012): 306-336.
"Commemoration Amid Criticism: The Mixed Legacy of Urban Renewal in Southwest Washington, D.C.," Journal of Planning History 8:3 (August 2009): 175-220.
"Refuge, Resort, and Ruin: Real Estate Development and the Identity of Asbury Park, New Jersey," in Liberty and Leisure in North America, ed. Pierre Lagayette (Paris: Presses de l'Université Paris-Sorbonne, 2008): 41-57.
Teaching
At the Weitzman School, Professor Ammon teaches both city planning and historic preservation courses focused on the history of the built environment, thesis research and writing, and special topics in urban cultural history. She also directs the Initiative in the History of the Built Environment. In 2019, she received the G. Holmes Perkins Distinguished Graduate Teaching Award for Standing Faculty.
CPLN 500 / URBS 440: Introduction to City & Regional Planning: History, Theory, and Practice
CPLN 707: Planning Thesis Studio
HSPV 600: Documentation, Research, and Recording 1
HSPV 708: Historic Preservation Thesis Workshop
HSPV 711: Historic Preservation Thesis
HSPV 638 / CPLN 687: Photography & the City: The Visual Construction of Urban and Suburban America
HSPV 638 / MUSC 621: Cities and Sound: The Spatial Politics and Practices of Sound in Modern Urban Life (with Naomi Waltham-Smith)
Professor Ammon wrote about her teaching in "But Why Do I Have to Take This Class? Making Required Courses More Meaningful," Penn Almanac 66, no. 14, November 19, 2019.
News
In 'Changing the Face of the City,' Philadelphians Get Inclusive View of Urban Renewal (April 2022)
New Interdisciplinary Initiative in the History of the Built Environment (Oct 2021)
A Visual Archive of an Iconic American Boulevard (Aug 2021)
Ammon Earns National Endowment for Humanities Grant to Study Urban Change (Dec 2020)
'Perspectives on Fair Housing' looks back on more than 50 years of landmark legislation (Oct 2020)
Weitzman Faculty Receive G. Holmes Perkins Teaching Awards (May 2019)
Francesca Russello Ammon: ACLS Fellowship (Apr 2019)
Research: Ed Ruscha's Streets of Los Angeles Project (Dec 2018)
Faculty Members Ammon and Guerra Earn Tenure from Penn (Dec 2018)
Preserving Philadelphia's Society Hill (Aug 2018)
Francesca Russello Ammon's 'Bulldozer' Earns Prestigious Mumford Prize (Nov 2017)
Lecture Notes (Jan 2017)
When Push Comes to Shove (Dec 2016)
Excerpt: Francesca Russello Ammon on the Bulldozer's Wartime Boost (Sept 2016)
Francesca Russello Ammon Talks to WNYC about the Bulldozer (Apr 2016)
SAH/Mellon Author Awards: Dr. Ammon (Feb 2014)
John Reps Prize: Dr. Ammon (Oct 2013)