You could have mistaken the scene for a well-promoted block party celebrating the arrival of spring, except that, off to one side, two people were intently lowering a young tree into its new home, the focal point in a row of other plantings.
It was the finishing touch on a new community garden in West Philadelphia, the most visible milestone in a yearlong partnership between Weitzman faculty, students, business owners, and other neighborhood residents who gathered this May evening to celebrate its completion. It also marked the conclusion of the first design-build studio at Weitzman in recent memory.
The Spring 2023 studio, led by alums David Seiter (MLA'05) and Aaron Booher (MLA'05), who head the New York City landscape design firm Future Green Studio, was offered as part of the Weitzman School's Studio+ initiative, an effort coordinated by PennPraxis and supported by the departments to foster collaboration with West Philly community members. The studio built on the work of last year's Studio+, in which graduate students from Weitzman and local public school students worked together to design and build "The Porch," a stage and garden for West Philadelphia High School, over 15 months. The Spring 2023 studio also built on a course led last spring by Weitzman's Director of Justice & Belonging, Matt Kenyatta, which focused on building the identity of a Black cultural district in a part of West Philly that straddles Lancaster Avenue. But it came with an aggressive timeline for a design-build studio, with site selection, community engagement, design, and construction all taking place in the course of a single semester.
"I'm used to doing things under the gun," says Seiter, whose firm has completed a wide range of design-build landscape projects around New York City. "But this was a little crazy."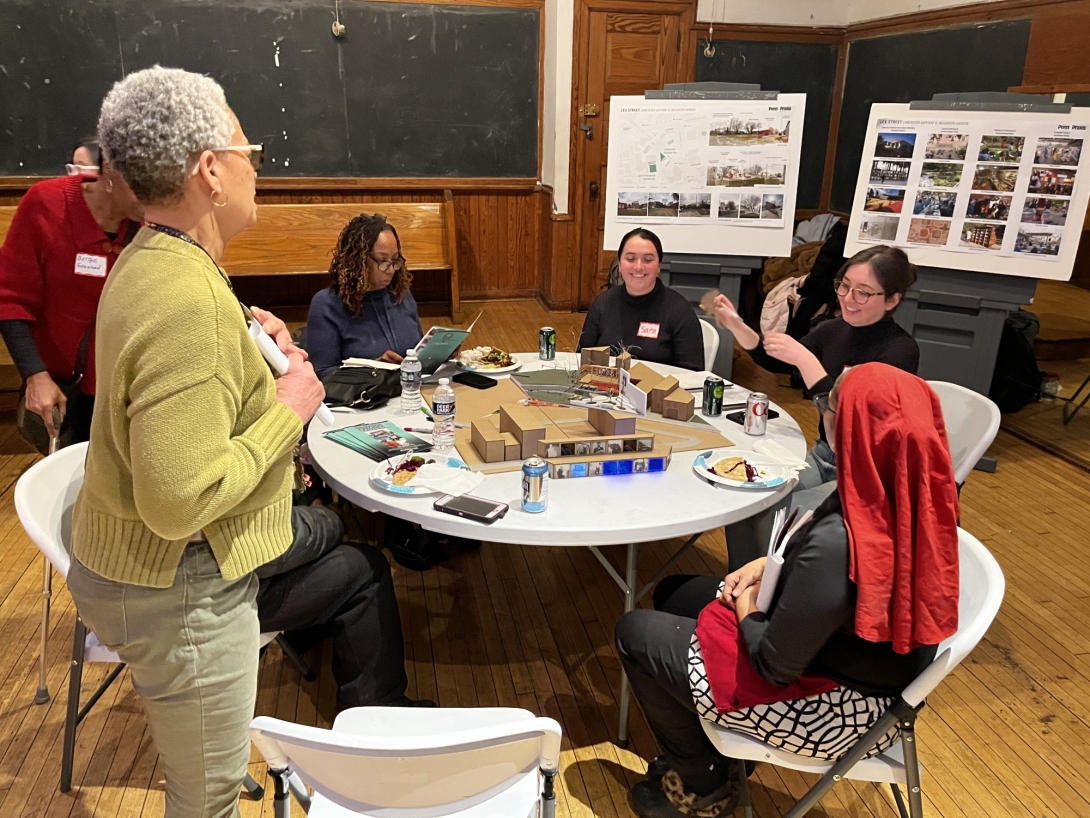 The spring studio, which Booher and Seiter led with Future Green staff designers Anni Pan and Farasha Zaman (MLA'20), was an exercise in "engaging with a local community, gathering stories and making spaces," according to the syllabus. Students worked with community leaders and residents to develop a key site as a visible distillation (or embodiment) of the New Freedom District, an initiative focused on illuminating the Civil Rights heritage of the Lancaster Avenue corridor. The area is home to numerous sites of historic significance, including speeches by Martin Luther King, Jr., and Malcolm X, along with the first Black Muslim mosque in the US and the New Africa Center, an American Muslim museum and cultural center led by Abdul-Rahim Muhammad. Muhammad, who grew up in the neighborhood, has pioneered the New Freedom District with tours and preservation and development projects.
Last year, Muhammad and Kenyatta were introduced by Associate Professor of City Planning Domenic Vitiello, who had worked with Muhammad on community studios in the past.
"Mr. Muhammad had this idea that he had been organizing around and doing tours around to invest in the neighborhoods surrounding his center and rebrand it as the New Freedom District," Kenyatta says.
The name refers both to the New Africa Center and to the two-day "Freedom Now" rally that King held near 40th and Lancaster streets in August of 1965.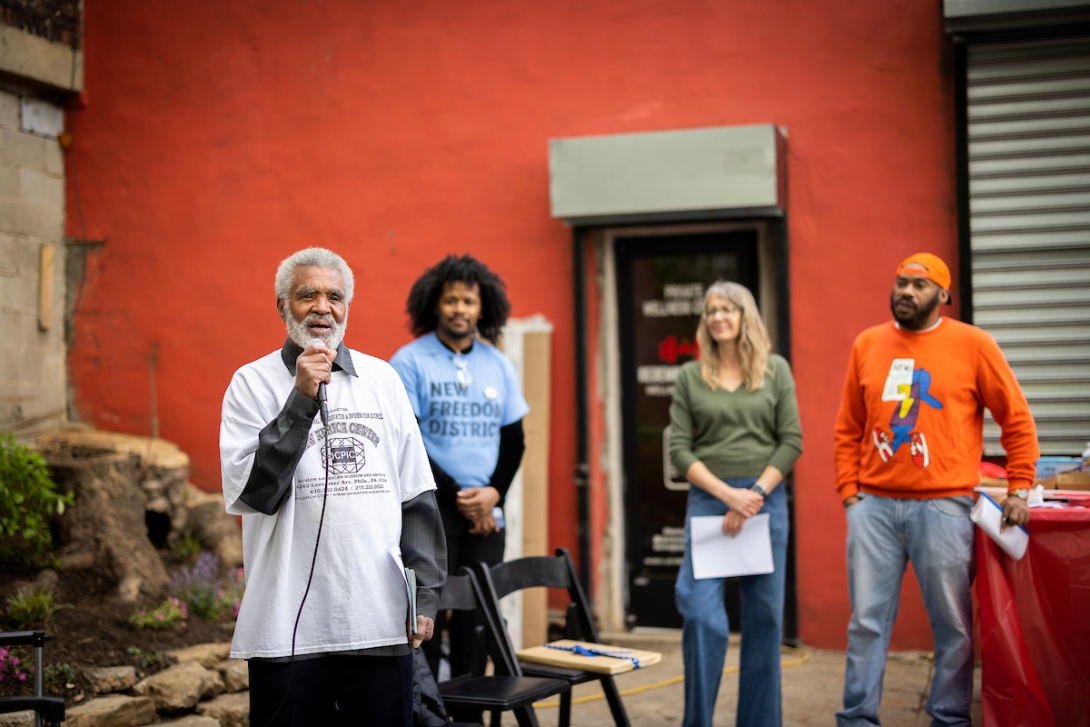 "It was his idea to celebrate and commemorate and curate new kinds of projects that would use arts, heritage and culture as an economic engine for the various communities in West Philadelphia," Kenyatta says.
Muhammad says he had been drawn to Kenyatta's "Afrocentric, creative placemaking" work, including research he completed on Black urbanism in Los Angeles as part of his dissertation. The spirit of Kenyatta's work fit in with what Muhammad was hoping to do in the New Freedom District—"to preserve the legacy of this community," he says.
On a warm afternoon in May, Muhammad left the New Africa Center, where he'd been handing out free bags of produce to anyone who walked by, and drove a few blocks to the Lex Street Garden with a car full of tomatoes, cucumbers, cabbages, and grapes to offer to students and the community. Students were hard at work planting trees and bushes in a far corner, carting wagons of soil, shoring up a retaining wall, and nailing together benches made of black locust planks. A sign on the short retaining wall advertised the New Freedom District. A pergola was embellished with a series of triangles, emphasizing the triangular lots that accompany Lancaster Avenue's diagonal route across the West Philly street grid.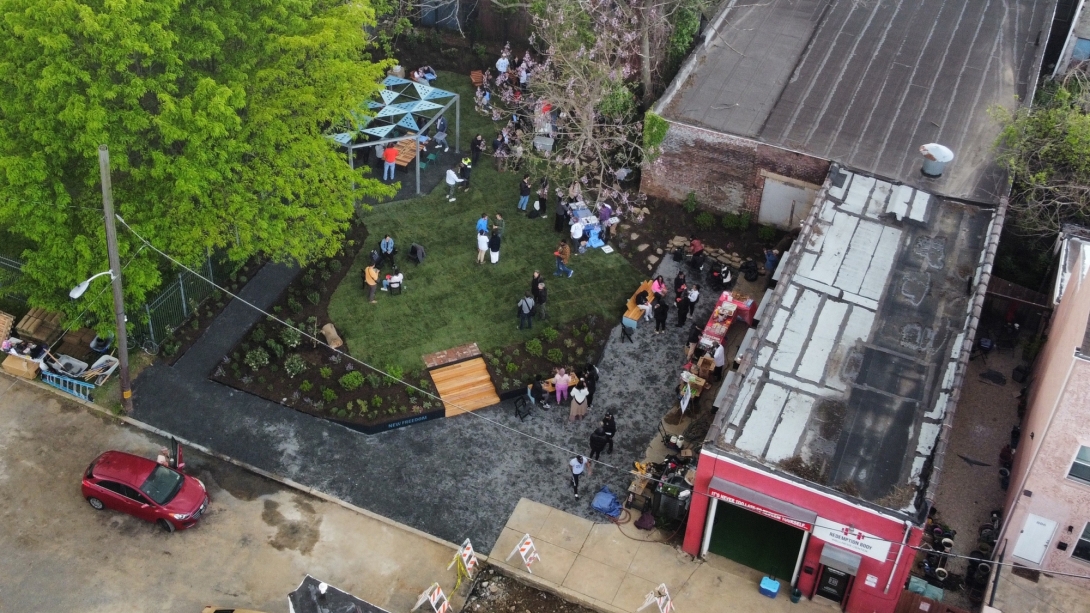 The garden itself sits on an odd lot on Lex Street in West Philadelphia, next to Redemption Body Wellness Center. The ownership of the lot was complicated, says Chanju Yang (MArch'23, MLA'23), a dual-degree student in architecture and landscape architecture. Part of it was owned by the city, and part of it was owned by a homeowner in the rear of the property, part by a developer, and part by the gym owner. It took time to get all the right permissions in place to build the garden there, and the students were careful only to build structural elements on the parts of the lot where private owners had agreed to allow it. Yang says she was drawn to the studio because of the design-build aspect, but the most important charge was helping community members execute their own vision.
"It was about giving a place for the community that they can be proud of and that they can cherish. This is a place that has a long history," Yang says.
Yang worked on the landscape design and grading. Others selected plants, designed furniture, built the pergola, and worked through budget constraints. Students helped coordinate two community engagement sessions with West Philly residents in February and March. Funding for materials came from PennPraxis and the Weitzman School. Audrey Genest (MLA'23), a landscape architecture student who was also on track to graduate this spring, worked on the benches, with the aim of making something "buildable, affordable within our means, durable, sleek."
Genest and Yang were joined in the studio by Weitzman students Madeline Barnhard (MLA'23), Yubing Ge (MLA'23), Bingtao Han (MLA'23), Haoyue Ji (MLA'23), Kyle Johnson (MLA'23), Arisa Lohmeier (MLA'23), Olivia Loughrey (MLA'23), Sara Sterchak (MLA'23), Yumeng Qu (MArch'23), and Emily Shaw (MArch'23). They were assisted in the buildout by students from West Philadelphia High School including Adil Arham, Ciarra Gedeon, Elijah Hill, and Umaiya Siddiqua.
"We didn't want to make something that felt like a spaceship landing, but something that felt true and authentic," Genest says.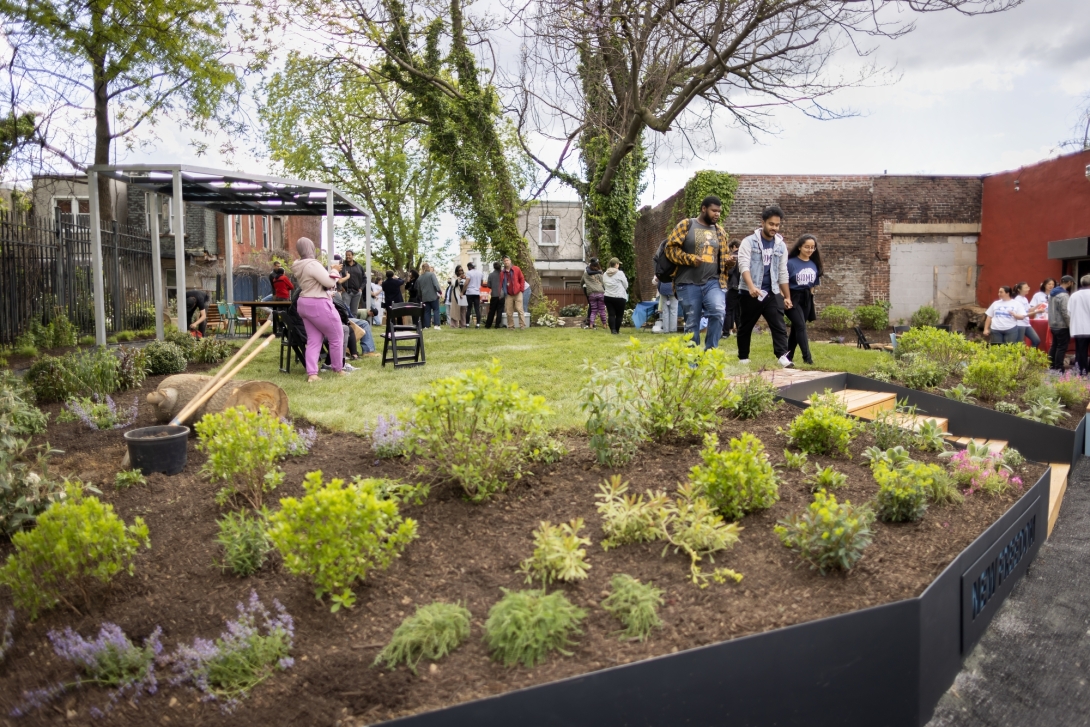 Martin Boyd, owner of the adjacent gym, says he'd previously used the lot for exercise classes, and will continue to hold them in the new garden, but that for years it was a barely used space. Boyd says he recommended taking inspiration from Discovery Green in downtown Houston. He and other community members wanted to see it beautified and reborn as a garden, while remaining a "neutral" space that could be used for a variety of purposes.
"I feel like it's very welcoming, and to see it come alive is just really amazing," Boyd says.
The spirit of Studio+ has been strongly executed in its first two years, says Ellen Neises, professor of practice in landscape architecture and Lori Kanter Tritsch Executive Director of PennPraxis. The projects at West Philly High and the Lex Street Garden have united the Weitzman School's various departments and nurtured relationships between the school and its surrounding neighborhoods. The single-semester design-build studio was an experiment that succeeded, Neises says. The next design-build Studio+ will run in Fall 2023, with the transformation of Sayre High School, which was awarded $100,000 from the University's Projects for Progress fund.
"It's a huge asset to the curriculum as a whole, because for many of our students, the process of converting drawings into built structures is really abstract," Neises says. "It's hard to be a good designer and think about specification of materials or strategies for working on a budget or designing for durability until you do it yourself. The students who built this garden seemed to have reached a deeper level of satisfaction by creating a place of lasting value in West Philadelphia. They made a lot of people happy with design (and shovels), and there was a lot of love and respect flowing their way."