It's sometimes said that cities have minds of their own. And while there might be something to the idea of an urban collective unconsciousness, often the way cities grow—and what they grow into—looks unplanned because those who make homes and lives there are doing for themselves, without access to broader governmental resources.
Associate Professor of Practice in City & Regional Planning and Landscape Architecture David Gouverneur has spent much of his career thinking, researching, and practicing ways to address this kind of urban growth, which often threatens and is threatened by traditional development, economic forces, and environmental constraints. One lens he uses is his "informal armatures," an approach that centers emerging settlements in proposals which municipalities can use to foster sustainable and inclusive growth. In a series of courses and studios, Gouverneur offers students a chance to visit informal settlements around the world and learn for themselves what communities need.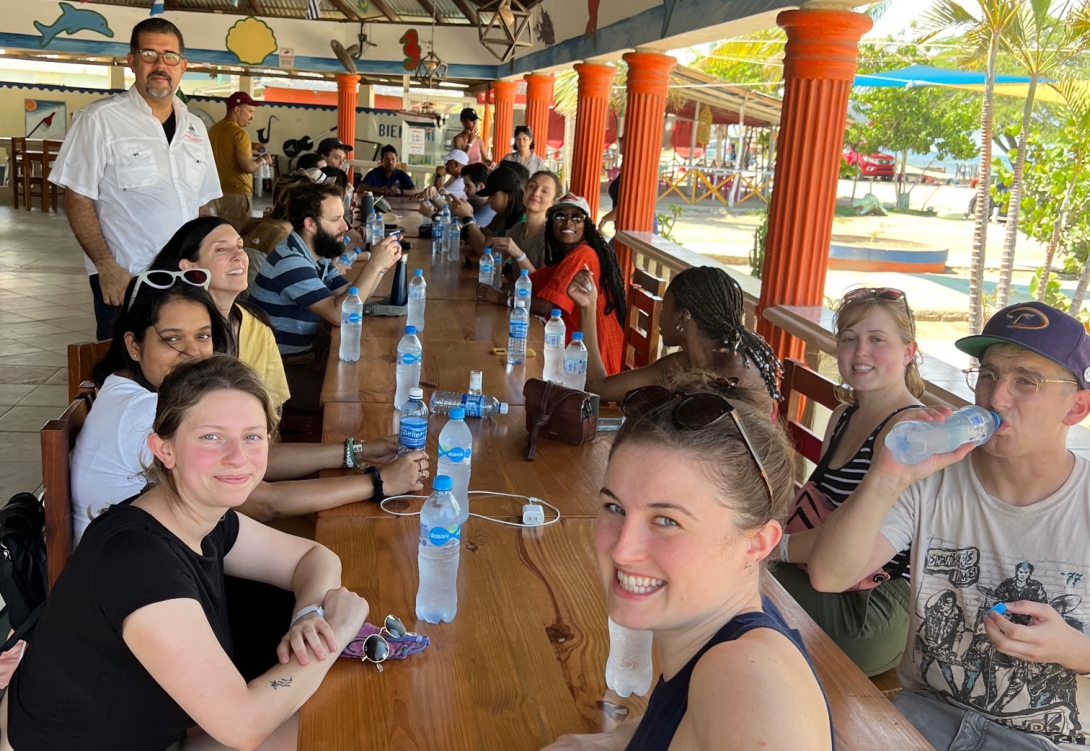 Amina McNulty, a dual Master of Landscape Architecture and Master of City Planning candidate in the Class of 2023, was one of Gouverneur's students in last semester's Dominican Republic: Healing Borders Studio. "Traveling in the Dominican Republic for 11 days was a turning point in my master's program," she says. "Professor Gouverneur's ability to translate critical urbanism theory into layman terms to articulate and listen to the local community and stakeholders was pivotal in how I understand the impact and power of community-led design."
This cross-disciplinary studio, with two sections working jointly, one led by Gouverneur, the other by Ariel Vazquez, who is Dominican-Puerto Rican, focused on three informally-organized towns on the porous border between the Dominican Republic and Haiti. This border zone, says Gouverneur, is distant from the main urban centers and illustrates the socio-economic challenges of the DR. The government is planning significant new infrastructure and industrial investments in these towns. One such investment is the construction of a border wall, which is controversial in part because of its potential impact on fragile habitats.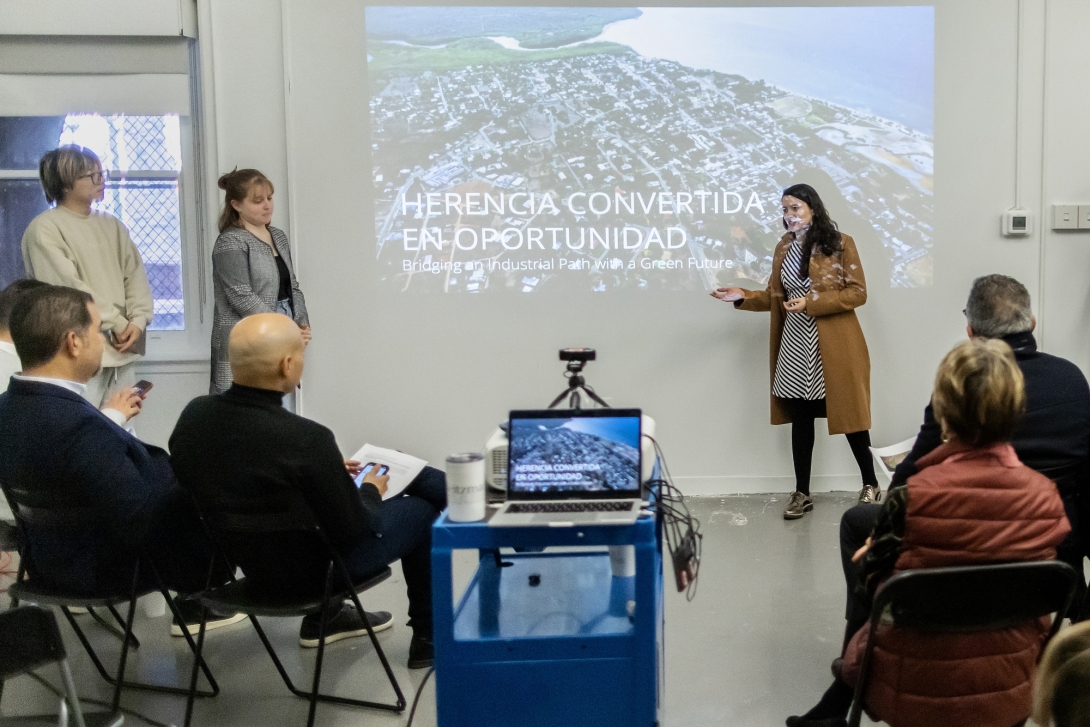 Gouverneur explains, "I usually select peripheral sites where the settlements are competing with the agricultural landscape and natural habitats." Sites with social and environmental challenges give students something meaningful to work on, of course. But Gouverneur also looks for places where students can work with local partners, building a network of universities, local, regional, or local governments, and communal organizations. In the DR, Weitzman's partners included the Ministry of Economy, Planning, and Development, three schools of architecture, and a local coordinator, Alex Martínez Suárez.
For the work in the DR, as in each of his engagements, Gouverneur brings an approach that is thoroughly collaborative and mutually beneficial. "We're not going in as 'foreign experts' to tell people what is right and what is wrong," he says. "We go as partners engaging in a creative process and building trust and respect. We carry out preliminary research on the country, the regions, the cities, and the neighborhoods before we travel, trying to grasp the natural, the urban, and the social systems."
When Gouverneur's students travel, they're looking to learn from people on the ground and hear from local experts, including, crucially, those who call the informal settlements home. "We had over 30 local participants join our a full day charrette in each of the towns," he says of the DR studio. "In the morning, we asked them to put sticky notes on the maps to identify the pros—the good things they would feel very bad if someone took away from you—and the negative aspects. Then, we asked them to imagine a better city. 'What do they wish for their communities?' In the afternoon, our students and locals split into teams, set goals, and put forward initial design proposals. Everyone is surprised by the quality and quantity of solid ideas that can be delivered in such a short time." Those ideas are developed and refined during the remaining weeks of the studio.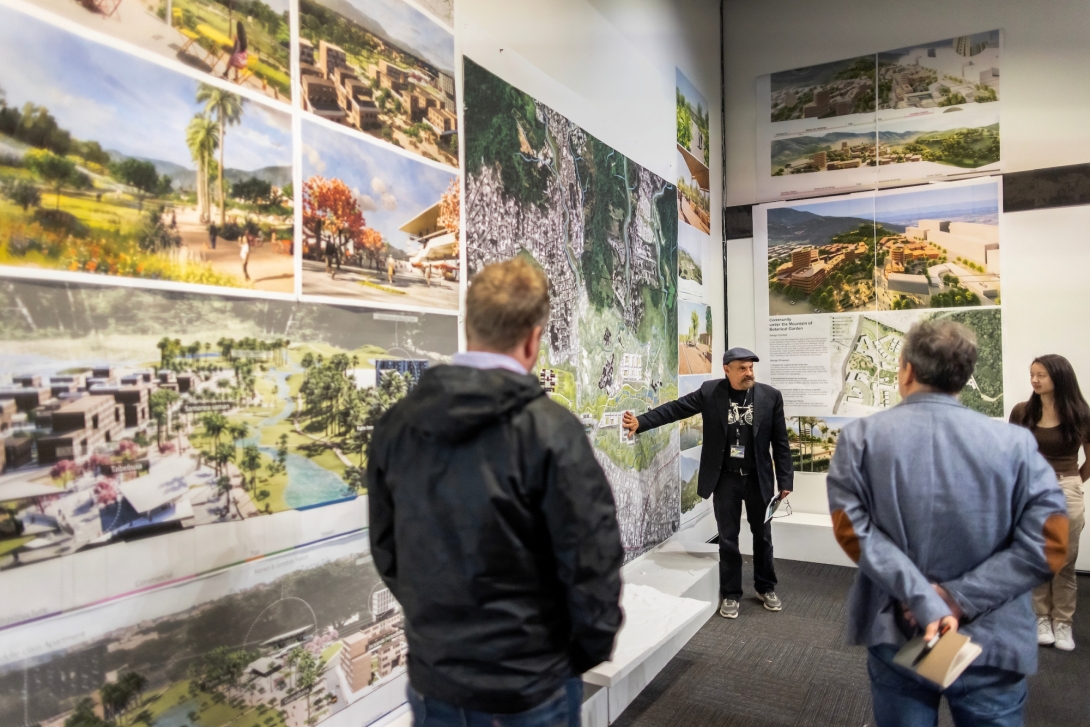 Gouverneur's approach is also remarkable for the way in which students work is presented and critiqued. They're asked to print their maps as large as possible to facilitate "reading the landscape, the topography, the creeks, the masses of vegetation, the risk-prone areas, the urban grids, the homes, and communal services." Even the siting of students' workspace is carefully planned so there is room to display the maps—which can be 8 feet high and 20 feet long.
In the months since the fall studio concluded, the DR's Ministry of Economy, Planning, and Development carried the work forward, introducing minor adjustments to the students' proposals for the towns of Pedernales and Jimaní as official plans. Meanwhile, students' proposals for Pepillo Salcedo are being used as a reference for the municipality's broader territorial plan. The Ministry also asked Gouverneur and his team to develop a housing project for residents currently living in substandard barracks in Pepillo Salcedo that would include communal services, productive areas, and recreational facilities. That work was taken up in an Independent Studio by Azaraí Hernández, a Master of Landscape Architecture student who is also graduating this May.
As Gouverneur and his students have worked with communities throughout the Global South, the theme of self-determination is a constant. But their geographical focus continues to shift. This spring, he and his students worked on three sites in the Andean city of Ibagué, Colombia, and this fall he's planning to take students to Harare, Zimbabwe, with Thabo Lenneiye (MArch'10), a Weitzman alum who grew up there and is now the managing director PennPraxis, the applied research, engagement, and practice arm of the Weitzman School.
Work by Gouverneur's students and their classmates will be on display in the Weitzman 2023 Year End Show. The in-person exhibition opens to the public on Saturday, May 13 and continues through Wednesday, June 14. With the exception of Commencement and Alumni Weekend, visiting hours are Monday – Friday, 9:00am – 5:00pm.