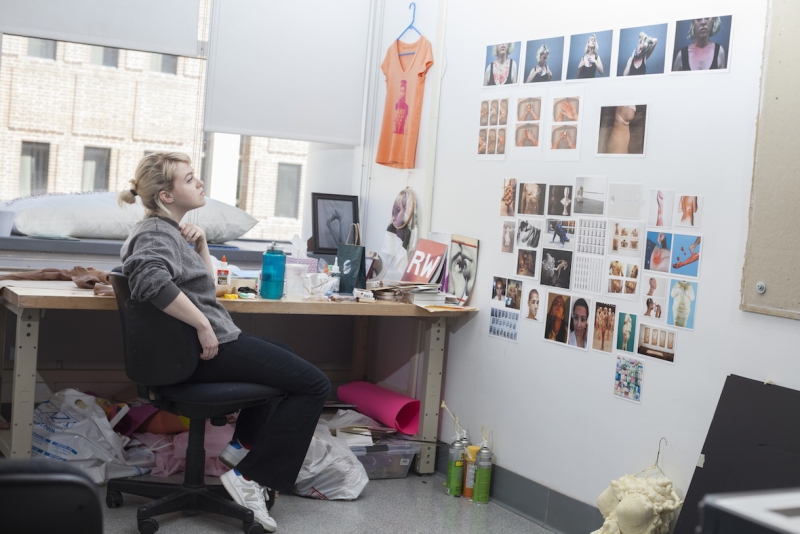 Program Statement and Overview
Art is a critical tool with which to understand the world. A goal of the Undergraduate Fine Arts program at the University of Pennsylvania is to facilitate an environment where the potentialities of art are considered in relation to the real life conditions of our students. Encouraged to test themselves against the rigors of divergent artistic approaches and their histories, our students develop a more complex set of skills to creatively and critically negotiate the turbulent shifts taking place globally in terms of human experiences.
The Undergraduate Fine Arts Program combines studio practices, seminar courses, and interactions with visiting artists and professionals in order to provide an open intellectual framework to foster critical awareness and independent methods of artistic research and learning. The Fine Arts Department offers a diverse range of studio courses in the areas of animation and 3D modeling, design, drawing and painting, photography, printmaking, sculpture and video. The dynamic curriculum also provides students with the opportunity to thoroughly examine contemporary art, creative research, interactive design and public art through seminar-based instruction.
The Undergraduate Fine Arts Program offers a Fine Arts Major for students in the College of Arts and Sciences and School of Engineering, and a Fine Arts Minor for undergraduate students across the university. The Fine Arts program works in conjunction with three interdisciplinary degree programs in Cinema Studies, Digital Media Design and Visual Studies. Fine Arts courses are available to all students at the university to take as electives in order to enhance multidisciplinary learning.
The Undergraduate Fine Arts Program offers a robust series of student engagement programs oriented towards supplementing the extensive Fine Arts curriculum and engaging arts-based communities on campus and in Philadelphia. The Spiegel Wilks Artist Residency Program brings a diverse range of prominent artists and designers to campus for lectures, workshops, and studio visits that allow students to make connections with, and learn from, practitioners at the top of their fields. The Silverstein Photography Studio Abroad Program and Lecture Series enables a select group of world renowned photographers to visit the department each year and supports international travel studios that provide students the opportunity to immerse themselves in a city's history, culture, and social climate to develop photo-based projects dealing with cross-cultural visual investigation.
In addition to a vibrant visiting artist lecture series, the Fine Arts department works closely with the Institute of Contemporary Art to provide students with opportunities to experience and study cutting-edge contemporary art from around the world. Integrative design classes, public praxis studios and seminars, and unique cross-school partnerships like The Common Press, reflect the department's commitment to cross-disciplinary collaboration. Fine Arts students work closely with standing faculty, graduate students, and experts in the field and often work directly with faculty mentors on long term research projects through the Center for Undergraduate Research & Fellowships.

Department of Fine Arts, Undergraduate Program
Charles Addams Fine Arts Hall, Room 114
200 S. 36th Street
Philadelphia, PA 19104
(T) 215-573-5134; (F) 215-573-8127
Matt Neff, Director
mneff@design.upenn.edu | 215.573.8717
Kristen Giannantonio, Assistant Director for Administration
krgold@design.upenn.edu | 215.898.9680
EboniJoi McNeill, Administrative Assistant
ebonijoi@design.upenn.edu | 215.573.5134
Prospective student program tours and information sessions can be scheduled ahead of time by contacting EboniJoi McNeill at ebonijoi@design.upenn.edu.