In 2013, Penn Praxis -- in partnership with Philadelphia Parks and Recreation Department, the Philadelphia Parks and Recreation Commission, and the Fairmount Park Conservancy -- was awarded funding to conduct a study to identify low-cost early actions and longer-term investments to improve connectivity to and through East and West Fairmount Park, as well as recommendations for how underused portions of the park can better serve park users of all kinds. While this 2000-acre park is the undisputed heart of the local park system, barriers of all kinds continue to limit its potential. Conceived as a watershed park in the mid-19th century, the park has been developed on an ad hoc basis over the intervening 157 years.
The effort, completed in May 2014, provided a comprehensive survey of park assets and user groups; identified early, low-cost actions that promote improved access to and through the park; offered recommendations for longer-term amenities, programs, development, and infrastructure needed to improve connectivity and draw energy through the park; set forth policies to appropriately guide development in the park; and planned for coalition building to aid in implementation and long-term stewardship.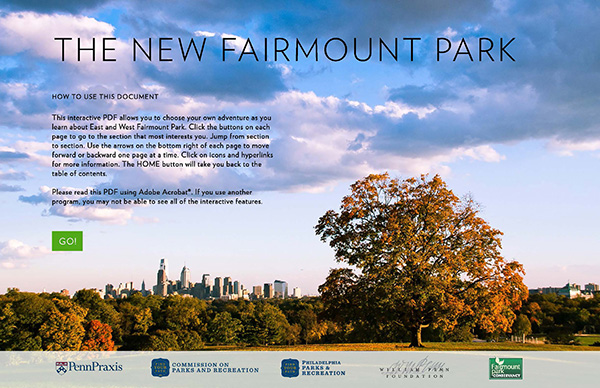 User Survey Data
In Summer and Fall 2013, PennPraxis engaged The Melior Group, an independent marketing research and consulting firm in Philadelphia, to provide quantitative consumer input to its planning and civic engagement process for East and West Fairmount Park. The Melior Group conducted research with three audiences: actual Fairmount Park users; people who actually live in neighborhoods around the perimeter of Fairmount Park; and general consumers within the Greater Delaware Valley (including Burlington, Camden and Gloucester counties in New Jersey, New Castle county in Delaware, and Bucks, Chester, Delaware, Montgomery and Philadelphia counties). Click here to read an executive summary of the feedback received from 705 citizens.
Fall 2013 Community Meetings
In September and October 2013, PennPraxis and the Penn Project for Civic Engagement organized community meetings for East and West Fairmount Park. We held two on the east side, two on the west side. Thanks so much to everyone who attended -- we received input from about 250 participants in these four meetings alone, and we very much appreciate it!
Please see information provided and gathered during these public meetings. This includes the presentation materials circulated to atendees, as well as the feedback reports submitted by the Penn Project for Civic Engagement moderators, who transcribed the ideas discussed during their group discussions at each meeting.
If anyone has additional input they would like to submit, edits to the public meeting notes, or questions about the process, please email praxis@design.upenn.edu or call 215-746-3849. Thank you for your interest.