Steel, concrete, metal, glass, timber. When you think about architects' material vocabulary, those are the elements that come to mind. But if we want to think ahead to the next thousand (yes, thousand) years of architectural innovation, we need to look backward to an entirely different material—rock—according to Ferda Kolatan, Associate Professor of Architecture at the Weitzman School and the founding director of New York-based architecture firm SU11 Architecture + Design. "My overarching interest here is to think about architecture's capacity to produce innovative solutions not only at the scale of buildings and cities but at geological timescales as well,'' says Kolatan.
For around 4000 years, the soft volcanic tuff of cooling lava in Cappadocia, one of the Anatolian regions in the center of modern-day Turkey, has served Hittite, Persian, Greek, and Turkic peoples as the base material from which to carve out their homes, animal shelters, and spaces for social gatherings and cultural ceremonies. And it has "yielded a dreamscape of strange and intricate rock formations," as Kolatan describes it.
With the idea that the mind-bending rock architecture forms of Cappadocia might hold significant lessons for less carbon-intensive and more culturally dynamic architecture, Kolatan started a new three-part studio at Weitzman dedicated to investigating how the material, cultural, and historical circumstance of Cappadocia can yield new architectural prototypes for cities today. The project presented an opportunity to build on Kolatan's longstanding relationship with Turkish architects Gokhan Avcioglu and Gokhan Karakuş from the GAD Foundation. Karakuş is an architect, historian, and scholar whose work focuses on both the indigenous in modern architecture and on computational design and digital fabrication. "Both Ferda and I have an interest in advanced critical concepts and things like computational and parametric design as well as philosophical approaches to architectural theory and history in Turkey," says Karakuş.
Kolatan and the GAD foundation's first partnership at Weitzman in 2019 focused on exploring architectural hybrids in Istanbul, tasking students with looking at themes of ornamentation, irreverence, and extravagance in both architecture and landscaping and applying that lens to transforming two sites: Istanbul's postindustrial Halic shipyard and the Valide Han urban market and bazaar.
The latest studio, Carvings and Aggregates: New Prototypes for Cappadocia's Rock Architecture, initiated in the Fall of 2022, counters many of the techniques and methods of traditional architectural education where students are taught to build up and out to create new original forms. Instead, Kolatan and Karakuş wanted to focus on teaching the next generation of progressive practitioners methods of carving and cutting into rock and pouring and casting concrete as architecture. "It makes you think about architecture beyond the conventions we usually associate with designing and constructing buildings—through more efficient resources, using local labor, smart technologies, and by acknowledging sparse resources and environmental challenges by incorporating more sustainable and economically viable ideas into architecture,'' says Kolatan.
The studio applies a 'low-tech, high-tech approach' to the subject, framed around the themes of material, technology, and culture. Students are introduced to new aesthetic reference points and patterns, geometries and textures that are unique architectural qualities of carving into stone, then asked to lean into hybridity by applying new technologies updating them in a contemporary way.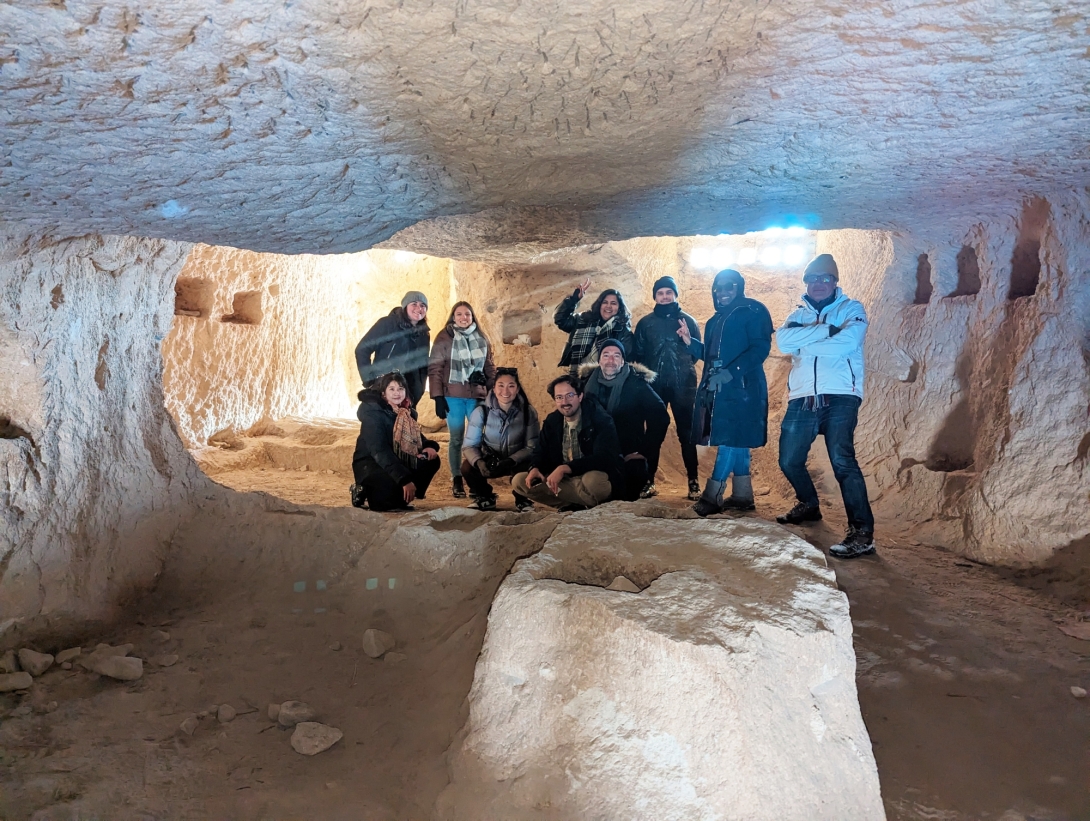 For both the Fall 2022 and Spring 2023 studios, students traveled with Kolatan and the GAD Foundation to Turkey to participate in academic and cultural exchange, visiting sites of cultural and architectural significance including mosques, bazaars, and public squares in Istanbul and other "off-the-beaten path architectural remains," as Karakuş puts it, in Cappadocia including Pigeon Valley, an underground citrus warehouse, and to the Ozkapadokya and Turkmenlik quarries to see firsthand the process of traditional tools and machines in carving stone.
After location scouting in Cappadocia for their own studio projects, and through a series of group presentations, studio reviews, workshops, and lectures, students were then asked to imagine their own contemporary prototypes that integrate the unique qualities of Cappadocian architecture into novel forms that combine environmental sustenance with cultural relevance. By bridging the analog and digital, the students came up with new concepts to generate unexpected tectonic and material effects that would also be inhabitable, infrastructural and programmable. From drawing on the cobalt blue color palette found in ancient interior churches to updated takes on traditional mosaics and tilework, the design concepts propose new expressions of deeply embedded cultural traditions with students attempting to answer the question, "What does it take to turn nature into culture?"
The designs and concepts emerging out of the Carvings and Aggregates will be presented this month as part of CityxVenice, a digital exhibition running as part of the Venice Biennale concurrently with the in-person program. This year's virtual pavilion is centered on the question of how the city of the future can be developed and design and will feature 60 images of student work produced for the studio. Students' designs are also featured in Weitzman's 2023 Year End Show, which includes a virtual gallery as well as an in-person exhibition on view through June 14.
While some of the concepts and approaches from the studio might not seem directly applicable to architectural practice today, Kolatan and his students would beg to differ. "Ferda always pushed us to question the choices we were making, and asking what relationship would each move have to the overall history of the site. And really making sure we're conscious about our design decisions and it not always being about what's beautiful but about what makes the most sense for where it is,'' says 2023 Master of Architecture graduate Lachelle Weathers. ''To think that there's only one way to think and produce architecture is incredibly detrimental to the environment and culture, but also to architecture itself,'' adds classmate Joseph Depre (MArch'23), ''The studio lends itself to thinking about context, place, purpose, investigation and material research and to a through process that allows us to be diverse in output that can carry into any kind of project.''