For many, the Amtrak trip from Philadelphia to Baltimore is routine. But for Weitzman students in a studio studying the future of this transit corridor under the threat of sea level rise, the trip became an object of study, forcing them to see it in a new way.
For Fritz Steiner, dean and Paley Professor at the Weitzman School—the studio's co-instructor—the most striking thing was just how close the water is. "You're here and the water's there, and I-95's over there, and you realize this is all underwater."
In the next decade alone, Amtrak faces at least $220 million in losses due to the effects of climate change. The Northeast Corridor rail line is, at points, only a few feet above sea level, and water level rise and flooding events have already begun.
Power/Practice/Place: Responding to Vulnerability, Philly to Baltimore is the latest and final in a series of research studios focusing on megaregions, a scale of study that foregrounds the infrastructural and environmental connections between metropolitan areas.
The studio was supported in part by the US Department of Transportation through the consortium called Cooperative Mobility for Competitive Megaregions (CM2). This month, the Weitzman team traveled to Austin to present their research at the CM2 Summer Forum, where academics and industry professionals focused on megaregions convened.
As an interdisciplinary research studio, the course brought together six Master of City Planning and three Master of Landscape Architecture students. Dean Steiner's co-instructor was Rebecca Popowsky (MLA'10, MArch'10), a lecturer in the Department of Landscape Architecture and research associate at OLIN. Coming into the course, she was focused on radical collaboration, interdisciplinarity, and breaking down the barriers between academia and practice.
"The future of design practice is a future of complexity and blurring of boundaries," says Popowsky. "Students are learning to enter into very large scale and massively complex scenarios that are, by their nature, going to be interdisciplinary. We wanted to get students to work together across disciplines and to engage with practitioners and people outside of the academy."
After the mid-review, students were asked to self-organize into a multidisciplinary design practice, framing projects to work on for the rest of the semester. "In other cross disciplinary studios, people usually try to get one group to fit into another group," says Nicole Cheng, a graduating Master of Landscape Architecture student. What she appreciated about Steiner and Popowsky's approach was their interest in creating "a new group, a new dynamic."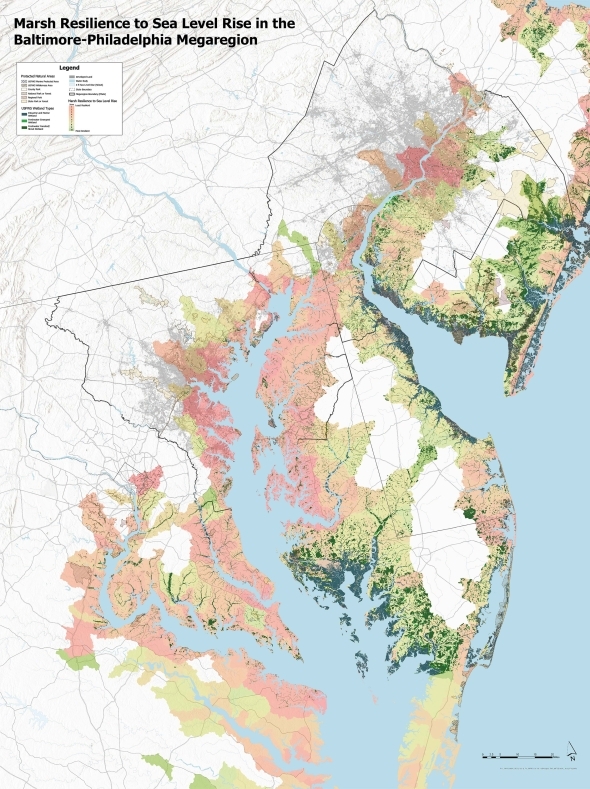 A New Dynamic
Riddhi Batra, a 2023 Master of City Planning graduate who specializes in transportation planning, studied the state of regional rail infrastructure in the corridor. An Amtrak ticket on the Northeast Corridor from Philadelphia to Baltimore will run you about $60 to $80, she says. On regional rail, the fares total only $18. But instead of one hour, that trip takes three and a half.
That's because there are 30 miles between Newark, Delaware, the farthest stop on SEPTA Regional Rail and Perryville, Maryland, the farthest point serviced by MARC, Maryland's commuter rail system. To complete the trip, you need to catch two buses to travel between the two rail lines. Batra uses this gap to propose improvements to transit planning between metropolitan networks, and analyzed the cost and potential route of linking the two stations with a new track along the existing Amtrak Northeast Corridor line.
Meanwhile, Batra's teammate Cecilia McCrary, a 2023 Master of City Planning graduate focusing on environmental planning, studied the threat to marshes throughout the region. McCrary found that as sea levels rise, marshes migrate inland. But train tracks block marsh migration. If marshes can't migrate, they flood, threatening the future of thousands of species of flora and fauna. So, aside from being under threat from flood events, rail infrastructure is also endangering vulnerable ecology in the region.
SEPTA or MARC could bridge the 30-mile gap between Newark and Perryville along the existing corridor. But the new rail line would cross 1700 acres of marshland, creating a giant manmade barrier to marsh migration. In planning for the future of transit, Batra asks, "is it only fair to use econometric and anthropocentric categories of evaluation? Or should we be expanding this cost/benefit evaluations to environmental measures?"
In the end, Batra recommended a more expensive route through the forest. "When you're only evaluating it in monetary terms, keeping things as they are makes sense. But if you thinking about the environmental implications of it, and even about the losses from environmental hazards, there's suddenly the shift in how we evaluate things changes drastically."
Students also considered infrastructure landscapes that were less in the public eye but still vulnerable to flooding. According to Zoe Kerrich (MCP'23), legacy industrial sites, widespread throughout the region and the greater Rust Belt, represent a huge challenge as municipalities saddled with hazardous waste no longer have the money to properly remediate the danger to citizens.
The Koppers Superfund Site in Newport, Delaware, is located on 300 acres of wetlands, and between 1929 and 1971 was used as a wood treatment plant. For decades, Koppers, Inc. produced treated wood using creosotes, or polycyclic aromatic hydrocarbons (PAHs), which seeped into the soil and groundwater.
The current owner and the Environmental Protection Agency are developing remediation plans, which include building a hazardous waste landfill on site. But Kerrich worries that their plans aren't taking into account the imminent reality of sea level rise, which will raise the water table, bringing contaminants with it.
The site stuck out to Kerrich because it is expected to experience high levels of inundation with four feet of sea level rise, the common benchmark used by her studio team. "And one thing that is not so fun about flooding is that it's really good at moving contaminants," she says. She points out that the community of Silview is just across the Amtrak line from Koppers, and warns that a storm surge could bring cancerous chemicals into people's basements.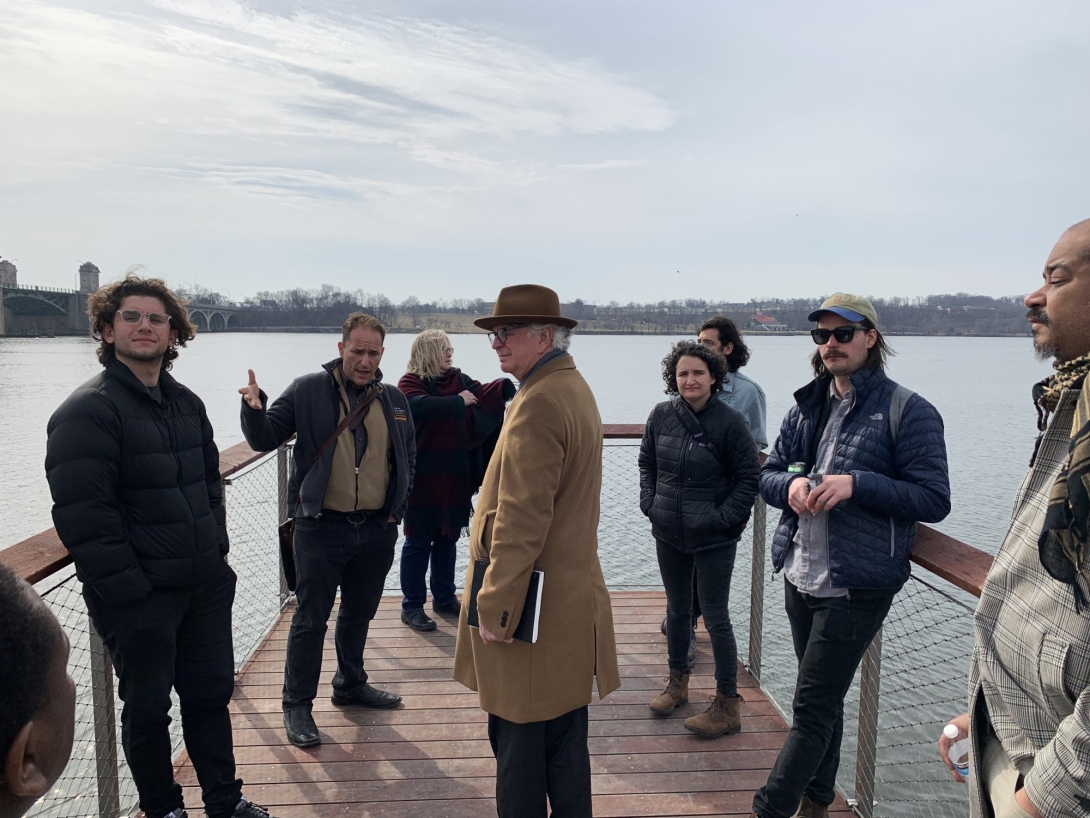 In a Broader Research Context
Megaregional research at the Weitzman School dates back 20 years, when a city and regional planning studio taught by Robert Yaro, Armando Carbonell and Jonathan Barnett discovered about a dozen areas in the US where metropolitan areas were growing together. Since then, subsequent studios have tackled megaregions in China, Great Britain, Spain, the Netherlands, and Germany. Steiner and Yaro published a book on the topic, 2021's Megaregions and America's Future, with Ming Zhang of the University of Texas Austin.
While they were completing their book, Yaro began wondering if the Northeast Megaregion, from Washington, DC to Boston, should be considered two megaregions: the Northeast and the Mid Atlantic.
"Because this aggregation of urban spaces was first identified in this location, there's always been this assumption that it's just one megaregion" says Kerrich. Before joining the studio as a teaching assistant, she completed an independent study in the fall of 2022 on the question of whether there were actually two megaregions in the Northeast, analyzing climate, ecology, infrastructure, economies, and history, among other variables.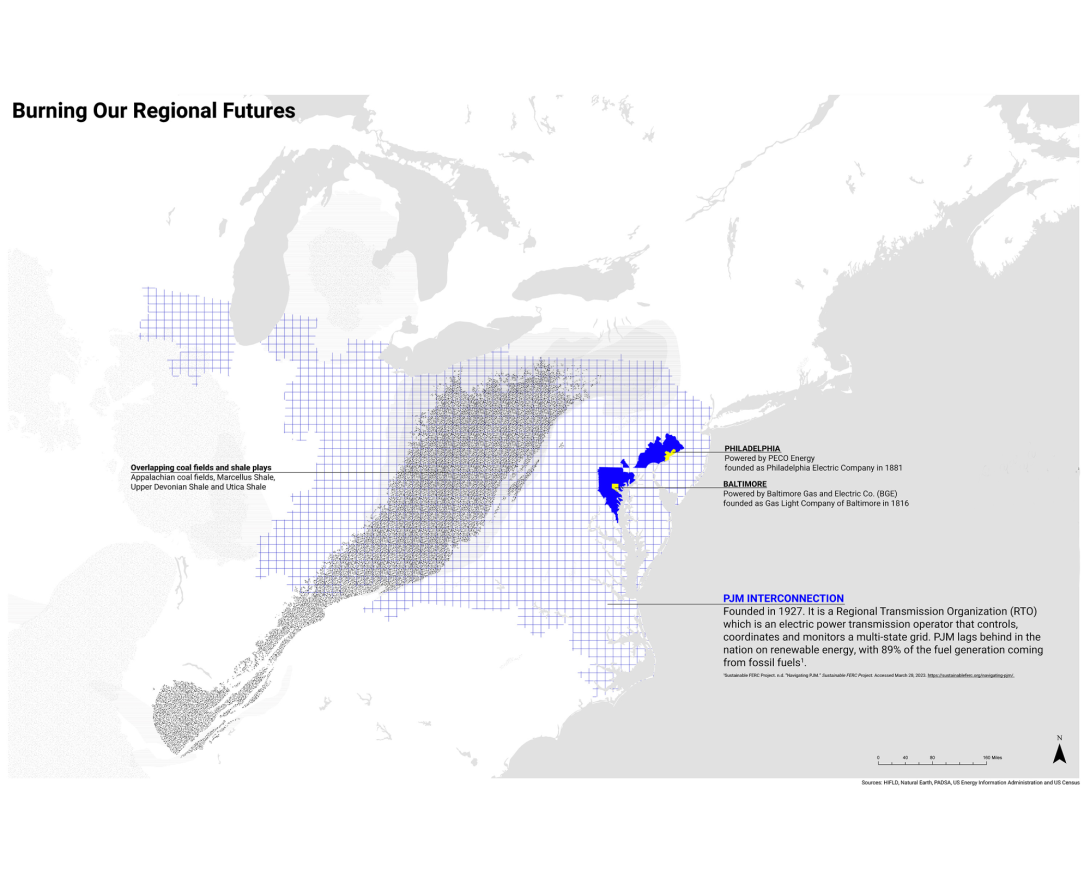 Enter Nicole Cheng, a 2023 Master of Landscape Architecture graduate whose project in the studio focused on energy infrastructure in the corridor. Cheng says she was drawn to the subject because it was something she hadn't learned about in any of her previous studios. She wanted to know exactly where energy was coming from in this region, and how it was transmitted from, say, a coal mine in West Virginia to a house in Philadelphia.
In working on mapping energy transmission in the region, Cheng discovered RTOs, or regional transmission organizations: conglomerations of utilities that set prices, oversee pooling energy, and distribute it across a number of states. PJM, the RTO serving Maryland, Pennsylvania, and New Jersey, is one of the largest in the nation, and, notably for this megaregion research—distinct from the RTO serving the rest of the Northeast.
At the ¾ review in April, Steiner introduced Cheng's work on energy, saying "This map blew me away." Cheng laughs in remembering his reaction, saying "I had no idea why he was so excited." Her method of mapping energy transmission was a powerful argument that the Mid Atlantic could be thought of as distinct from the Northeast.
"It was the first time that I felt like my ideas as a student could actually be interesting in a broader research context."
Work by students in the studio is featured in the 2023 Year End Show, which includes a virtual gallery as well as an in-person exhibition on view through June 14.