Basic Steps for Laser Cutting
Step 1 - Prepare your laser file
AUTOCAD
Download the pre-configured laser template available on the Downloads page or at \\Juno\Public\DigitalFabrication\LaserCutter-Template\
Import your geometry and then assign components of your design to the appropriate layers for different laser operations (e.g., place linework to be scored on the blue "Score" layer).
When saving files from Rhino as AutoCAD .dwg drawings, please select the 2007 Polylines export scheme in the "Option" field.
Do not change the scale (1:1) or units (inches) of the template.
Erase all stray and overlapping lines and delete all unnecessary information from your file.
Follow the instructions on the orange "Instructions" layer.
If you still have questions, please email Dennis Pierattini at dennis2@design.upenn.edu.
ILLUSTRATOR
Set your artboard to 32" width and 18" height and set units to inches.
All linework should be at least ¼" interior of the artboard edges.
All linework must be black. Illustrator does not support color-dependent plotting.
Cut and score lines must be set to .001 pt. stroke. Engraved lines should have a stroke of .25 pt. or higher, and engraved areas must be filled in black.
Use separate layers for parts to be cut, scored, or engraved. Name the layers "Cut", "Score", or "Engrave".
Erase all stray and overlapping lines and delete all unnecessary information from your file.
If you still have questions, please email Dennis Pierattini at dennis2@design.upenn.edu.
Step 2 - Material Choices
The Lab stocks 1/8" MDF for sale in 32" x 18" sheets ($3) or in 32" x 12" sheets ($2) which can be purchased directly from any Lab Staff member during normal hours of operation.
All other materials choices should be informed by the following list:
Laser Suitable Materials
Cutting and Etching
Acrylic
Wood
Paper
Leather
Mylar
Matte Board
MDF (1/8" thick only)
Etching Only
Glass
Stone
Anodized Metals
Corian
Banned Materials
Rubber (All Forms)
Casting Resins
Polypropylene
Polycarbonate
Any material in the chloride/chlorine family (e.g. PVC-polyvinylchloride)
Felt
FoamCore
Polystyrene
Corrugated Cardboard
Step 3 - Schedule a laser appointment
Log in to the laser scheduling calendar at http://penndesign.calendarhost.com/ and choose either "Annex Laser 1" or "Annex Laser 2" or "Hall Laser" from the upper right corner.
Select a convenient day and time for your laser appointment.
You may make three 30-minute appointments per week. All other unused timeslots in a given week are available on a walk-in basis regardless of how many timeslots you might have scheduled.
Please cancel your laser appointment online if you no longer need it.
The laser week runs from Saturday to Friday. The schedule for the new week will become available at 11am on preceding Fridays. (For example, at 11am on Friday, October 9, the schedule for Saturday, October 10 through Friday, October 16, will become active.)
NOTE: If you have not already registered for the laser scheduling software, please see the "Register For Software Access" document below.
Step 4 - Arrive for your appointment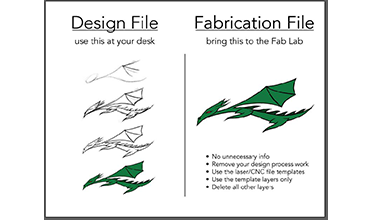 Please arrive on time. If you are more than five minutes late, your appointment may be reassigned to a walk-in student. Please be patient and understand that we may have to reschedule your appointment.
Please arrive with your materials fully prepared and your file completed. The Lab staff can help prepare materials prior to your appointment. If you need assistance in formatting files, please contact Dennis Pierattini well before your appointment time.
You will be asked to remain in the laser room while the operator cuts your files so that you may answer any questions that might arise or be advised of any remedial CAD work that may be required.
All work must be completed within your scheduled timeslot. Before starting your laser job, the laser operators can give you an estimate of your cutting time for planning and prioritizing purposes.
If there is no one scheduled after you, you may continue to cut until the next appointment time.
*Register for access to the Laser Scheduling Software
1. Go to the Laser Scheduling Calendar at http://penndesign.calendarhost.com//, click on "Login" at the right of the page, click on "I am a new user", and then fill out the "Add User" form.
At "User ID" enter your PennKey. Your PennKey is the username at the beginning of your Penn email address. For example, Mary Smith, whose email address is smithm@design.upenn.edu, would enter "smithm". Bill Jones, whose email address is jonesb@sas.upenn.edu, would enter "jonesb".
At "Password" enter a password that is strong but easy to remember. DO NOT use your Pennkey password. This website is NOT secured by the university.
Enter your name as it appears on your PennID, then enter your most frequently checked email address, then your phone number.
Click the "Submit" button.
2. To complete your registration, email a request for laser scheduling access to laseracc@design.upenn.edu.
You MUST send this request from your Penn email address. Requests sent from any other email address will not work. Please include your full name and your PennKey name. Do not include ANY passwords. For example, format the email as follows:
"I am requesting access to the PennDesign Online Laser Schedule. I have already completed the online registration. My full name is Mary Smith and my PennKey is smithm."
You will receive a confirmation email from laseracc@design.upenn.edu that your registration is complete.
Requests for access to the scheduling software will be processed as quickly as possible, Monday through Friday, during normal business hours. Please note that NO requests will be processed during the weekends or evenings.
Policies and Helpful Tips
The lasers are reserved for student academic work only.
The laser scheduling software will be unavailable as it goes into administrative mode every Friday from 9AM to 11AM.
Place your geometry in the Laser Template, available at \\juno\Public\DigitalFabrication\LaserCutter-Template or in the Downloads section of this website.
We cannot cut files that are not properly formatted in the laser template.
The template is formatted for 1:1 scale in inches. Please do not change this.
Please delete all unnecessary information from your laser file to avoid miscuts and confusion.
Use the "Overkill" command in AutoCAD to remove overlapping lines.
The laser's kerf is approximately .008" centered on the drawn line. This will cause parts to be slightly smaller than drawn. This may be critical for some applications.
The rule of thumb for spacing between discrete parts is to allow at least half the thickness of the material between relatively parallel cuts. This is especially important for thermoplastics like acrylic.
Please be aware that certain materials cannot be laser cut either because of their flammability, toxicity, or negative effects on the laser. Please consult the "Laser Suitable Materials" list in "Material Choices".
You may make three laser appointments per week.
All scheduling conflicts will be resolved by Dennis Pierattini, not the faculty member or the CNC technician.