Spring Study Abroad Programs
Study Abroad Programs allows students to enrich their architectural studies directly with travel and intensive study of sites and cities, offering the longest exposure and duration of stay: students become fully immersed in local cultures and sites, living, seeing important sites, and studying for four weeks in the late spring. The two programs in 2020 offer different themes and cultures; design exercises complement historical and discursive academic matter. NB: These courses are offered as spring electives.
In 2020, students study and travel for approximately 4 weeks at the end of the spring semester (mid/late-May through mid/late-June). These programs can be taken for or without credit. These programs are open to both graduate and undergraduate students, at all levels, as well as to graduate students outside of Weitzman School in and outside of the University of Pennsylvania, with approval of the instructors. See below for information on the different programs, fees, credit, and application procedures.
PARIS: Its Constructs, Its Liminalities
ARCH 782.001: Travel to Paris & Lyons (TBC)
Led by Annette Fierro, Associate Professor
The Paris Program is a long-established academic program that draws from many old and new associations local to this greatest of Western cities. In its four-week study, the program consists of lectures on architecture, landscape and urbanism from important scholars, architects and engineers, with accompanied tours to buildings, landscapes, and offices.
We experience architecture and the city of Paris with an immediate sense of content.
We begin with issues essential to understanding Paris, the archetypal experimental city, and then fine-tune our studies to particular student interests: (1) Urbanism: from early Roman and medieval morphologies, to the city's seminal role in initiating the discipline of urban design (Haussmann), to infamous speculative urbanisms (Situationists), to ongoing dilemmas wrought by post-colonial peripheral developments. (2) Technological trajectories: from the gothic cathedral, to the iron structures of Labrouste and Eiffel, to the iconoclasm of the Centre Pompidou, to the vanguards of structural glass technology, and contemporary building methods found in buildings such as Gehry's Fondation Louis Vuitton. (3) Contemporary civic architecture, beginning with François Mitterrand's last great rebuilding of the city, the Grands Projets, but extending into the newer projects at Les Halles, Parc de la Villette, La Defense and the most recent re-envisioning of the Parisian periphery, Le Grand Paris. (4) The congruence between landscape and architecture in recent projects that brings the botanical and biological directly into the context of building. (5) Specific architectural moments, especially those of Le Corbusier, Hector Guimard, Pierre Chareau, and more recently, Jean Nouvel, Dominique Perrault, and Jakob & McFarlane.
We TOUR many of these buildings and landscapes accompanied by scholars, architects and engineers and we hear their lectures simultaneously—many of these which cannot be entered individually. We VISIT various professional offices. We begin to know, deeply, the context in which architecture and landscape is produced in this profoundly important city.
Finally, we PRODUCE one photography/video/writing project which serves to focus all of the above through a creative act, recasting a moment in the city in experimental media. We read, observe, absorb, write, illustrate, and document and re-document the spaces and actions of the city, in the city.
The 2020 spring course begins May 20 and ends June 20, TBC. The draft syllabus is available here. Fee information for Weitzman School graduate students is available here.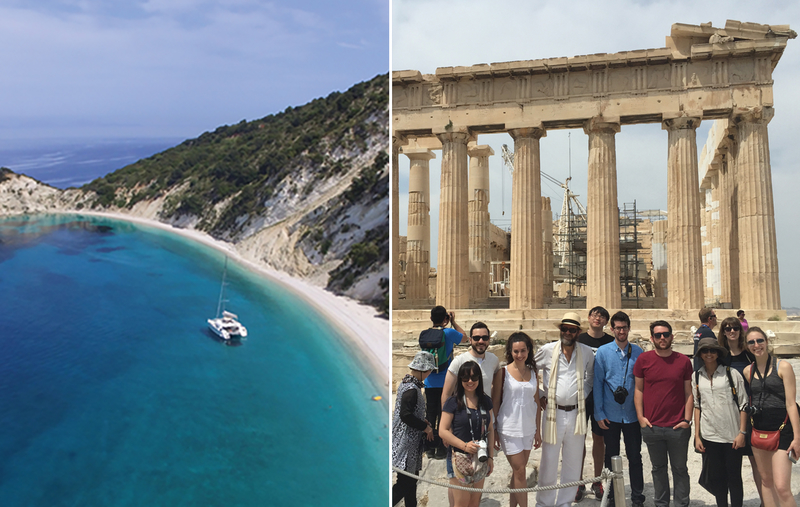 GREECE: APOMECHANES
ARCH 782.002: Travel to Athens, Aegean Islands, Epidavros
Led by Danielle Willems & Ezio Blasetti
Apomechanes is a computational design workshop as well as a study abroad program in Greece. This is part of a series of workshops and study abroad programs that have run since 2009. The title apomechanes is derived from "από μηχανής", literally "from the machine", and refers to the machinic nature of the studio in an abstract/diagrammatic sense. Apomechanes is a calque from Greek meaning "god from the machine".
The Study Abroad Program in Greece will organize a series of visits to both archaeological sites as well as modern and contemporary architectural sites. Weitzman School students will exchange and collaborate with a selected group of Greek Architecture students, Artists and Designers during a week-long design workshop. There will be a series of lectures from professionals and academics, which will frame the proceedings of the workshop. The final presentation will take the form of a symposium and an installation. The Greece study abroad program will run from 5/20/2019 to 6/20/2019.
This program exposes students to the ancient and contemporary of Greek culture, archeology, city planning and architecture foundations. Many cannons of our discourses come directly from Ancient Greek civilization, ranging from our Democracies to City Planning, Theory and Design. Every Designer should have the opportunity to study and closely read these foundational elements. These spaces, architecture and archaeological sites in Greece hold vast value to contemporary designers and are an essential part of educating the next generation of Designers. We will cover the following topics in this program (1) Ancient Architecture, Archaeology and City Planning. (2) The Generative & the Geologic: The Ancient Rivers of Athens. (3) Contemporary Athens and Mega Developments. (4) Aegean Archipelagos and Aerial Photogrammetry.
The program is organized from the end of May to the end of June. The typical week is structured with tours of Ancient and Contemporary site in the start of the day, and guest lectures and cultural events in the evening. Lectures are organized with the Fine Arts and Architecture Departments in Athens, conveniently located in the center of Athens walking distance from the Acropolis. Weekend trips are left open to explore the cities and the islands, unless there is a planned excursion. In the past we have organized trips to Archaeological sites outside of Athens such as Meteora, Epidaurus, Peloponnese, Ionian Islands and Aegean Islands. There is also a sailing trip, which will explore the Archipelagos of Greece. We will engage in 3D scanning ancient sites. Students will live in the heart of the Ancient City Center with public transportation to sites of interest and leisure.
The syllabus is available here. Fee information for Weitzman School graduate students is available here.
Find more information about our Greece Study Abroad program here.
GENERAL INFORMATION
Tuition & Fee Structure for Different Audiences:
(1) For Weitzman School Graduate Students, see policies and fees listed as per program above. These courses are available to take with or without 1 CU credit. (A) Students taking the courses for credit should register as for any other spring elective and will be charged an additional travel fee, but will also be granted a Weitzman School stipend. Exceptions are students opting to take these as "overload credit" on top of their normal load for the spring (+5CU's). In this case, they will not be charged the travel fee, but will be charged for the 1 CU additional credit, at the same rate as other credits. (B) Students taking the courses without credit will be asked to pay the fee listed for programs, but will not be provided with the Weitzman School stipend.
(2) All of the above programs are also open to graduate students outside of the University of Pennsylvania, pending available space in the programs, as Penn students are given first priority. Interested students will be accommodated as special non-degree students on a first-come first-serve basis. They should complete and email: (1) the Non-Degree Student Enrollment Form and (2) a letter of interest stating their particular interests to the specific program, by January 31, 2019 to: Annette Fierro, Director Summer Programs at fierroal@upenn.edu. Programs taken for credit will furnish 1 CU (3 hours) from the University of Pennsylvania, subject to approval by students' home university. Tuition for these courses for students from outside the University of Pennsylvania will be billed as (1) CU Weitzman School summer credit with an additional fee, which will provide the same features as listed for Penn students above. Programs taken without credit will be charged the same fee as listed for Weitzman School students.
Miscellaneous
A valid passport is required, but a visa is not required for US citizens to travel in these four European countries. Citizens from other countries, however, should confirm if visas are required as they vary according to country of origin. Students needing a letter for visa application should request one from Sean Limlaw in the Architecture Department office.
Students are required to carry health insurance. Make sure that this health insurance works overseas and if necessary, purchase additional coverage. All Penn participants are covered by Penn's group policy with International SOS for emergency and medical assistance. This primarily provides coverage for emergency evacuation and repatriation as well as in-country medical and legal referrals. You will be provided SOS cards before departing.
Students on academic probation will not be allowed to enroll in summer abroad programs.
Deadlines & Fee Payment
Students enroll in these courses on a first-come first-serve basis during advanced or regular registration periods. Students opting to take these courses without credit should sign up with Sean Limlaw in the Architecture Department Office.
The deadline for registering/signing up is January 31, at which point programs will be confirmed. Minimum enrollment in programs is set at 10 students, maximum at 18.
The Program Fee will be applied to each student's account by Weitzman School's Office of Student Services. Students will receive an email confirmation when the fee has been applied. If you are currently receiving Federal loans, you may be able to increase your loan eligibility for the spring term to cover program-related expenses once the budgets have been set for each program and you have been billed for the course.
Weitzman School students will be furnished with a stipend after February 5.