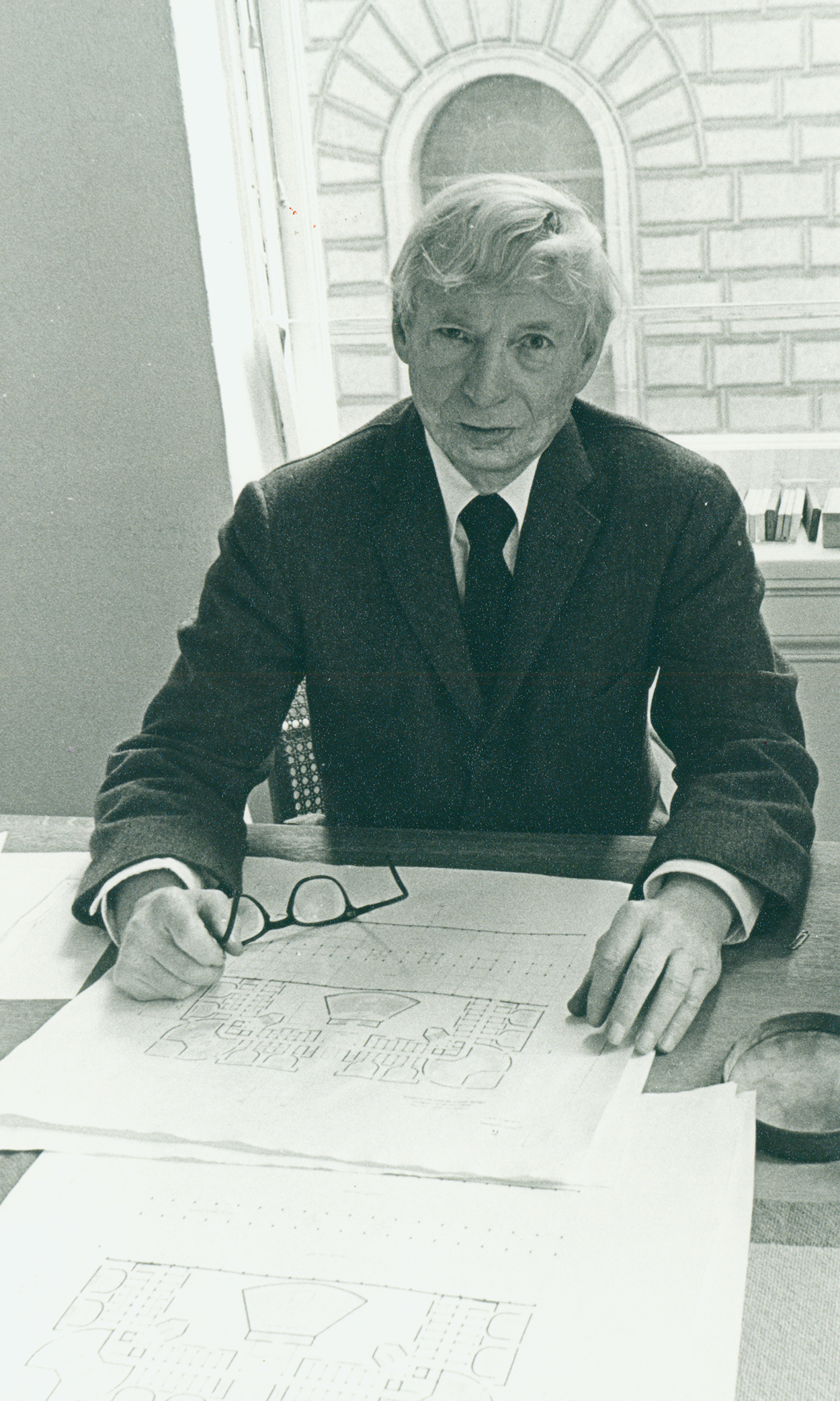 Kahn, Louis I.
Louis I. Kahn Collection (030), Architect, 1909-1974
Louis I. Kahn was born in Estonia and raised in Philadelphia. He was trained in architecture in the Beaux-Arts tradition at the University of Pennsylvania under Paul Philippe Cret. As a mature architect, Kahn was distinguished from his contemporaries (in a period dominated by the International Style) by his unique personal philosophy of architecture and a style marked by a profound sense of history and pure geometry in design and the texture of materials in construction. His legacy is as much in his teaching and his unbuilt designs as in his major built works. He lectured and wrote on architecture beginning in the 1930s. He taught at Yale University (1947-1955) and was Cret Professor of Architecture at the University of Pennsylvania from 1956 until his death.
Kahn's major built works include: Yale University Art Gallery; Alfred Newton Richards Medical Research Building, University of Pennsylvania; Salk Institute for Biological Studies, La Jolla, California; First Unitarian Church and School, Rochester, New York; Performing Arts Theater, Fort Wayne, Indiana; Eleanor Donnelley Erdman Hall, Bryn Mawr College; Indian Institute of Management, Ahmedabad, India; Sher-e-Bangla Nagar, Capital of Bangladesh, Dhaka, Bangladesh; Library, Phillips Exeter Academy, Exeter, New Hampshire; Kimbell Art Museum, Fort Worth, Texas; Yale Center for British Art.
When Kahn died unexpectedly of a heart attack in 1974, two of his most important works, the Yale Center for British Art and the national capital of Bangladesh at Dhaka, were still under construction. After his death, his office was closed, but his former associates completed, when possible, the projects under construction.
The Louis I. Kahn Collections comprise the entire professional archive of Louis I. Kahn, with the addition of personal materials. After Kahn's death, his estate faced substantial financial obligations, and the decision was made to liquidate the assets of the firm. The entire archive was purchased in 1976 by the Commonwealth of Pennsylvania under the auspices of the Pennsylvania Historical and Museum Commission (PHMC) and was placed on permanent loan to the University of Pennsylvania the following year. The trustees of the University assumed responsibility for making the collection available for scholarly research, exhibit and publishing. After the projects still under construction at Kahn's death were brought to completion, documentation for those projects was donated to the Architectural Archives by Kahn's former associates. Personal materials were donated to the Architectural Archives by family and friends. Additional materials continue to be received.